There are a handful of good NDS ROM hacks out there based on Pokemon. Why don't we add one more to that list which is Pokemon Following Platinum which is a hack of Platinum. The main hook of this hack is that it has the Pokemon following you like it did in Heart Gold and Soul Silver.
Now, of course, there are other added features in the game and not just the following aspect because that would be no fun. Pretty much, this is Platinum with a lot of added things but let's dive into this hack and again, use Platinum to patch the file below.
Featured Videos
Other DS ROM Hacks
Pokemon Following Platinum Details and More
Story
The story is the same as Pokemon Platinum. If you know what to do and where to go, then you're pretty much good to go since not a lot has been changed in terms of the story.
Features
We mentioned the main one, which is your Pokemon in the first slot of your party, following you all the time. Along with this following mechanic, your Pokemon will also have custom animation where it joins you in your activities. Think about sliding down a slope where your Pokemon will slide as well.
It also has all Gen 1 to 4 Pokemon available in the game, going up to 493, where you may catch all of them. Basically, this is a good hack to play when you love to experience Platinum all over again.
Pokemon Following Platinum Information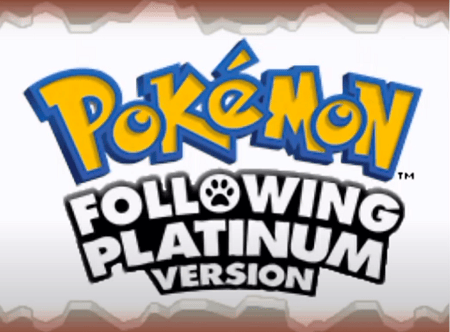 Pokemon Following Platinum
Creator: Mikelan98 and AdAstra
Game Base: Platinum
Language: English
Source: Link
Feature List
Pokemon Roster goes up to Gen 4
493 Pokemon to catch
Pokemon follows you
Special events
Updated Music in some areas
Screenshots
Download Pokemon Following Platinum
---
Credits

ARM Assembler: Used for assembling and allocating every subroutine that was added to the ROM in order to implement the Walking Pokémon.

IDA Pro: Essential for disassembling and reverse engineering of the original subroutines and for debugging the new implemented ones.

DSPRE: Used for modifying scripts, editing texts and placing events and overworlds in the maps, as well as other minor edits.

PDSMS: A very powerful tool used for editing two tileset files and a building list file.

CrystalTile2: A tool for importing the modified files in the ROM.

HxD: Used for copying the assembled code into the binary executable files.

kiwiDS: A tool used for packing new NARC archives.

DeSmuME: A Nintendo DS emulator essential for testing the game and checking for possible bugs.

Tinke: Used for adding the Following Platinum logo to the title screen and editing the ROM banner icon and description.

---

Mikelan98, Nomura: ARM9 Expansion Subroutine (pokehacking.com/r/20041000)

Mikelan98, BagBoy: Fairy Type in Pokemon Platinum (pokehacking.com/r/20071800)