Playing Pokemon ROM hacks can be fun, actually a lot more fun than the regular Pokemon GBA games you know. But if you're a real trooper, you will play some of the hardest ROM hacks around. That's why we've compiled a list of the 10 hardest Pokemon ROM hacks you should try and play today.
We'll be adding reasons why they can be hard, and some of them have the option to be hard. Basically, they're not hard by default, but if you want a real challenge, then just hit that hard or challenge mode, and you'll get what you want and maybe more.
Featured Videos
Other Related Topics
10) Pokemon Supreme Fire
Let's start our list o the 10 hardest Pokemon ROM hacks with Pokemon Supreme Fire. The story of the hack is that the programmer did this when he was very young. This is his take on the FireRed game, making it a bit harder and more challenging in the process.
One interesting point is that Pokemon have altered or added types other than their original ones. Speaking of types, the typing balance is also altered, so you'll have to experience it yourself. Major and specific battles are also harder, and it gets harder post-game.
Notable Features
TMs are reusable
Physical and Special split
BW Repel System
09) Pokemon Emerald Enhanced
The name tells you everything you need to know, and this hack is an enhanced version of Emerald. You still get the same story and features that the original had. The game has six difficulty modes which are Easy, Normal, Hard, Hardcore, Nuzlocke, and Frontier.
You get to choose from 7 Starters and over 600 Pokemon to catch. Play the game lightly or choose any of those harder difficulty modes to make it much more interesting. The game will also level and scale with the player's levels to make it more balanced.
Notable Features
Use HMs even without Badges
Physical and Special split
New Game+
08) Pokemon FireRed Omega
FireRed Omega has the same story as FireRed. The challenge is just amplified a bit, but if you know where to go and what to do, you can progress naturally, but not easily. Choose from three different Starters in this game, and their chemistry doesn't make sense, but that's probably part of the difficulty.
One other to note is that this hack was made by Drayano, who is notorious for making numerous DS ROM hacks that are also difficult. Pokemon spawn locations have also been slightly altered, and the Badges do not give any stat boost in the game.
Notable Features
National Dex available from the start
Day and Night cycle
HMs can be replaced
07) Pokemon Pyrite
Our first GBC hack on our 10 hardest Pokemon ROM hacks list is Pokemon Pyrite. This game utilizes Crystal as its base, and it has the same story as Crystal as well. The game is harder, but to make things more interesting, about a hundred new Trainers have been added, so that's more battles to partake in.
All these Trainers also have some interesting Pokemon teams to boot. The original Gen 2 Roster makes up the Pokemon for the game. Along with the original events, several new ones have been added, and some locations have been altered.
Notable Features
100 New Trainers
New and Old Events
Pokemon roster goes up to Gen 2
06) Pokemon Snakewood
Snakewood is our only Ruby-based ROM hack on this list. The game is hard as it is, but it has an interesting theme to it. Snakewood isn't you're typical hack because it has its original story and somewhat gruesome and mature.
Basically, mix Pokemon and zombies, and you get an interesting but hard game.
There are zombie versions for some Pokemon, and Fakemon included as well. There are interesting plot points and dialogue to keep you engaged in the story. Just remember that some parts may be a bit mature for the younger ones out there.
Notable Features
Zombie Versions of several Pokemon
Some Fakemon included
Some mature content
05) Pokemon Dark Cry: Legend of Giratina
Not only is Dark Cry: Legend of Giratina a hard game, it's a fun game. You get a nice and unique story to boot from the start. That way, even if the game is a bit hard, it's still fun to play. Explore the Trion Region and encounter as many Pokemon and Fakemon as you can.
You also have two rivals and special timed events that you can do. You also know that Giratina will be playing a vital role in this game, but you'll just have to check it out yourself to find out more. The graphics and sprites have been slightly modified as well.
Notable Features
Fakemon included
Two Rivals
Day and Night cycle
04) Pokemon Vega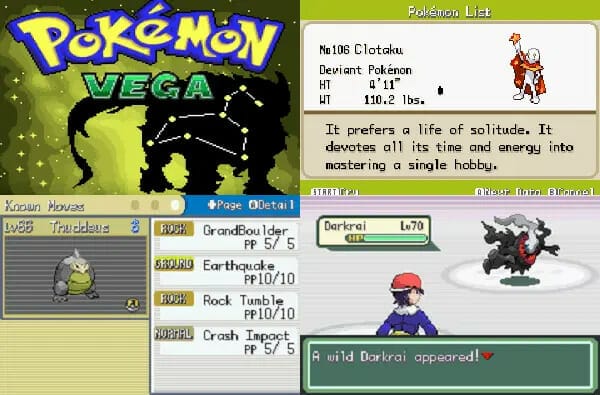 Another game on this 10 hardest Pokemon ROM hack list that has a unique story from the get-go is Pokemon Vega. The game is so hard that there is another version called Pokemon Vega Minus, which is a hack of this game, but the difficulty has been slightly made easier.
However, if you want punishment, you can always rely on Pokemon Vega to give it to you. There are almost 200 Pokemon and around 50 Fakemon for you to use. New Moves and other stats have been altered to the hack itself.
Notable Features
Pokemon and Fakemon in the roster
New Moves added
Rematch some Trainers
03) Pokemon Inclement Emerald
This is another hack that utilizes Emerald as its base. It also has the same story as Emerald and everything else included in it. It has three difficulty levels with Normal, where EVs are not applicable. Hard has EVs applicable, and the game is harder. Then, there's Challenge difficulty, which is the same as Hard, but you cannot use Items during battle.
If you really like torture, then Challenge is just the right thing for you to do. The Pokemon Roster goes up to Gen 7, which also includes several Legendaries. The game may be hard, but it at least forgives in some parts. There's an EXP share feature for the party, so that's less of a grind for you to tackle.
Notable Features
TMs are reusable
Bag can hold 999 of each Item
Mega Evolution
02) Pokemon Emerald Kaizo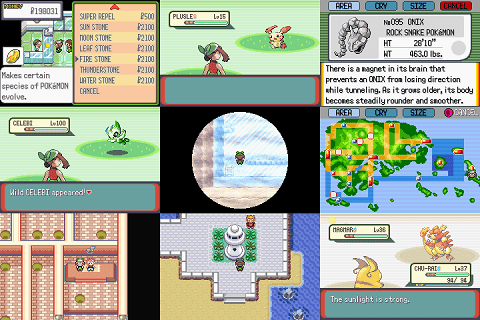 Emerald Kaizo is a notorious hard hack that even hardcore Nuzlocke players have a hard time beating. It is still the same Emerald story, and some of the features have remained the same. You can actually catch all 386 Pokemon or at least get all of them without trading.
Several Moves for some Pokemon have been altered or changed. The game also has Mega Evolution for some Pokemon. You can buy some of the Evolution Stones needed for some available, but as stated, since you can catch and raise all Pokemon, there is no need to trade evolution.
Notable Features
Catch all Pokemon
Mega Evolution
Gym Leaders will have six Pokemon
01) Pokemon Radical Red
Pokemon Radical Red is the number one game on our 10 hardest Pokemon ROM hacks. Even if you're not looking for a challenge, Radical Red is considered one of the best hacks out there. It still used FireRed's story, and a lot of the features are intact. When you start the game, you can choose from numerous options to customize your game.
You can choose to go Hardcore mode which makes the game harder than it already is. There are also options for Randomizers if you want to go that route. Plus, the game allows you to choose features to make your life a bit easier if you want to, but we're here for hard ROM hacks.
Notable Features
Multiple Options at the start of the game
Mega Evolution
Dynamax
In Closing
These are the 10 hardest Pokemon ROM hacks that you can play. Even if you're not a glutton for punishment, you can still play these games to give yourself a nice challenge. Plus, it is a nice experience compared to just playing the usual ROM hacks. Cheats are available if you also want, but that beats the purpose.
Also read: 25 Best Pokemon ROM Hacks
If you have other hacks that you've played that are hard, feel free to hit the comments and let us know. We'll probably update the list in the time to come. Nevertheless, these are enough to keep you in pain should you want some.