Pokemon DS ROM hacks can be just as fun as any GBA or GBC hacks. The issue is that DS ROMs are way harder to alter, so there aren't many of them around. Patching DS ROMs can also be very tricky as well, but most DS rom hacks have their individual patching instructions already included in the download.
Featured Videos
Nevertheless, we're here to present a list of the Best Pokemon DS ROM Hacks for 2023.
Remember, you need to have a DS emulator to play them. Patching them is also needed, so just be aware of that, and you should have the right tools to patch them. We'll give you good reasons why these games are good enough.
Other DS Topics to See
List of Top 10 Pokemon DS ROM Hacks
Pokemon Sacred Gold and Storm Silver
These two games are starting off our list. They are hacks that make some alterations with Heart Gold and Soul Silver. Use the ROM corresponding to the game, like Gold to Gold and Silver to Silver.
The difficulty is slightly harder, and some aspects have been changed, making it a bit different but at the same time similar to HGSS.
Notable Features
493 Pokemon to catch from multiple Generations
Trainers have different Pokemon Teams
Certain items have been restricted and limited
Pokemon Mind Crystal
Mind Crystal is a hack of Soul Silver, although it pretty much utilizes the story of HGSS. There are some minor changes to the story but nothing too grave to make you think twice.
The biggest addition to this hack is the Fairy-type. That may sound underwhelming, but changes to the Pokemon's typing that will have Fairy-type is definitely a welcome one. There are also some additions to the Evolution and Breeding mechanics.
Notable Features
Fairy-type included
Physical and Special split
Items, Stats, and More have been updated
Pokemon Sun Pearl and Moon Diamond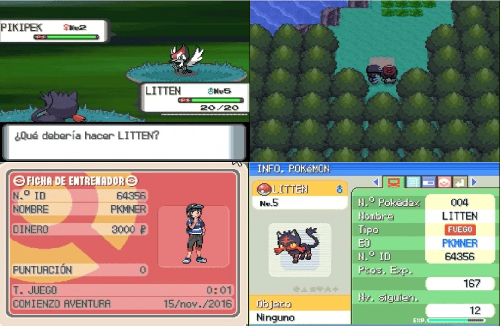 Sun Pearl is a hack of Pearl, and Moon Diamond is a hack of Diamond, but a lot of the content is pretty much the same, with some minor changes depending on which version you're playing.
The main gimmick of these hacks is that they have Pokemon from Gen 7. Your Starters are from Gen 7 as well as a lot more of them that you can catch. Some of the aesthetics are also updated, reflecting the Gen 7 games.
Notable Features
Gen 7 Pokemon present
Custom animation and sprites
New places to explore
Pokemon Hoenn White
This game would be a hack of White, if it wasn't already that obvious. This hack has the same story as Black and White, but the main gimmick here is that the hack only features Gen 3 or Hoenn Pokemon.
You get the three Hoenn Starters and pretty much everything else in Gen 3. The Trainers, Gym Leaders, Elite Four, and Champion who is Steven are all from Gen 3. You even get some Gen 3 music playing in the background.
Notable Features
All Gen 3 Pokemon Only
Stat Changes and Updates
Game is slightly difficult
Pokemon Heart Red
We're halfway through our Top 10 Pokemon DS ROM hacks for 2023. We're focusing on Pokemon Heart Red this time. This hack specializes in making a remake of Pokemon Red which is one of the Gen 1 games.
Speaking of Gen 1, the initial Pokemon are all from Gen 1, and while this is a recreation of Pokemon Red, a lot of dialogues have been taken from FireRed and LeafGreen as a form of an update and more.
Notable Features
Pokemon follows you
Fairy-type included
Day and Night Cycle
Pokemon Renegade Platinum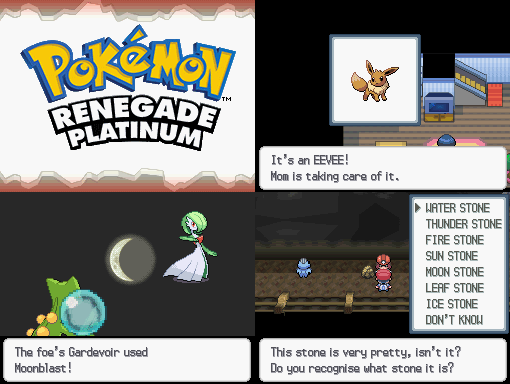 Renegade Platinum is a hack of Platinum which makes the game a bit harder than normal. It's a basic hack with added features since you're playing the same game with some elements to it changed.
It is the same story, but some changes are made, like Trainers having different Pokemon. Speaking of the Pokemon, you can catch or obtain all available Pokemon in Platinum.
Notable Features
493 Available Pokemon
Harder battles
Fairy-type included
Pokemon Silver Yellow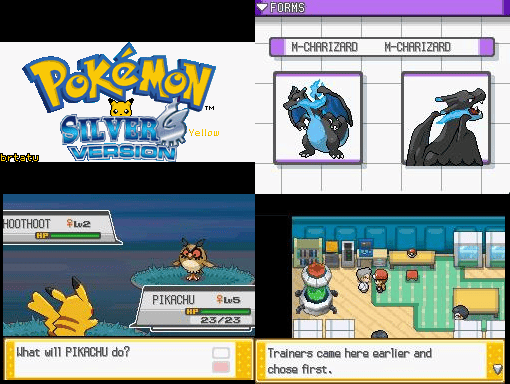 We're almost done with our top 10 Pokemon DS ROM hacks of the year list. Silver Yellow is a hack where you are given Gen 1 Pokemon as your initial ones.
Your Starter Pokemon is actually Pikachu, and you can obtain Charmander, Squirtle, and Bulbasaur later through the story. This kind of reminds you of Pokemon Yellow, which is why it is in the title. It still uses story elements from Soul Silver which makes it all the more interesting.
Notable Features
Pikachu as a Starter
Mega Evolution included
Some locations added
Pokemon Omega Paradox
Omega Paradox is a hack of another DS ROM hack called Pokemon Volt White. The creator made sure to acknowledge that, and the story is a continuation of it.
It has an original story going for it as well as features such as New Gym Leaders and notable Trainers since the original ones were either replaced or just died. The Pokemon roster also includes those from the later Generations but not all of them.
Notable Features
Choose from a mixture of Starter Pokemon
Mega Evolution included
New Trainer Classes added
Pokemon Light Platinum
There is also a Pokemon Light Platinum ROM hack for the GBA. Don't be confused because it is the DS version you would want to download. Anyway, this game has its own story going for it, and the visuals are very good.
The graphics and altered sprites, as well as animations, make this hack better than most. The gameplay aspect is also having Pokemon from different Generations and having more than the GBA version.
Notable Features
Pokemon Roster goes up to Gen 6 but not all of them
Maps have been edited to be larger
Pokemon will follow you
Pokemon Moon Black 2
The number one game in our top 10 Pokemon DS ROM hacks for this year goes to Pokemon Moon Black 2. It is a hack of Pokemon Black 2. The story incorporates elements from the Pokemon Sun and Moon games utilizing the system and other features from Black 2.
The game even has Pokemon from the later Generations making it very intriguing. Unova and Alola Forms are also added in this hack, as well as updated stats and more.
Notable Features
Pokemon goes up to Gen 6, although not all are available
Alolan Forms included
Mega Evolution added
In Closing
That concludes our recommendation for the best Pokemon DS ROM Hacks of the year. There are other DS ROM hacks out there that may be just as good. If you feel we missed a few of them on our list, feel free to hit the comments so that others might know.
Always remember that getting DS ROM hacks is trickier. The process of patching the files is just as tricky. You need to have the necessary tools if you want to play them. The good thing is that some of them are already available from the start.