Pokemon Red along with Blue or Green were definitely the pioneers of the Pokemon series. These games have also been remade through FireRed and LeafGreen. Red is loved so much that we'll be discussing a ROM hack for the DS called Pokemon Heart Red.
Featured Videos
The base of the ROM is Pokemon Heart Gold (preferably the Heart Gold (U) ROM). This hack is a good combination of Pokemon Red and elements of Gen 1 imbued into the elements of Heart Gold.
It's the best of both worlds if you love both Red and Heart Gold. There was supposed to be a Soul Blue but that isn't available for now.
Other DS ROM Hacks to Play
Pokemon Heart Red Details and More
Story
The story is a modified retelling of Pokemon Red. While Red is the main focus, a lot of the dialogue and several elements were from FireRed. Basically, the story is about Red and utilizes some elements from Heart Gold.
Features
Heart Gold is Gen 4 but is originally Gen 2 and Red is Gen 1 but you start off using Gen 1 Pokemon. In fact, you can catch a lot of the later Generations. You'll also encounter characters from Gen 1 as well as those from Gen 2 which doesn't really happen until later. A lot of the elements are from Heart Gold like stats, moves, and others. You'll get your way around if you already played both games.
Pokemon Heart Red Information
Pokemon Heart Red
Creator: TriggerHappy187
Game Base: Heart Gold
Language: English
Source: Link
Feature List
Start with Gen 1 Starters
Around 493 Pokemon to catch from multiple Generations
Fairy-type is added
Pokemon will follow you
Day and Night cycle
Several events have been added not present in the old games
Only 4 Gym Badges but with 4 Rival Battles
Contains ORAS Mini Icons
Screenshot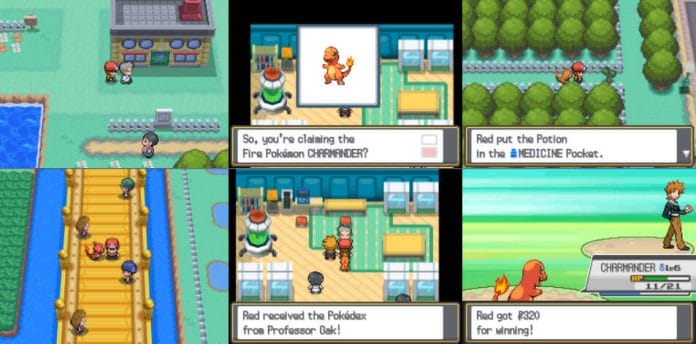 Download Pokemon Heart Red (Xdelta) – Use Heart Gold (U)
---
Credits

Chaos Rush for creating the starter selection and first rival battle
brtatu for creating various sprites for the protagonist
Tebited15 for Leaf's overworld.
INNERMOBIUS for Leaf's backsprite.
Romruto for the ROM icon.
BT for the logo.
Hiro_TDK for the intro graphics.
Devs of PPRE and SDSME
Nintendo