Here we are again with another Pokemon Emerald ROM hack. There are a lot of them out there, and this one can be a good addition to those hacks. This hack is pretty much the same in terms of story content because you already know what's going to happen when you play Pokemon Inclement Emerald.
The thing that has going for this game is that it has a lot of quality of life changes. It is also slightly harder, so that's something for those that like a challenge in the realm of Emerald hacks.
Featured Videos
We were able to collect the possible working cheats for this game. See our collection of Pokemon Inclement Emerald cheats and test them yourself.
The creator of this ROM hack also suggests playing it on mGBA and not on VBA emulators. However, if it works for you with minimal bugs, then that shouldn't be a problem.
Other Emerald ROM Hacks
Pokemon Inclement Emerald Details and More
Story
We did say that this hack follows the story of Emerald, so that's all you need to know. One interesting point is that some areas, like the Battle Frontier aren't accessible yet, but the game will get some updates in the future.
Features
The story may be the same, but the features are where this game excels. You can choose from three difficulties. Normal is where Trainers' Pokemon have no EVs. In Hard Mode has EVs and is slightly harder than the regular game.
The third one is Challenge Mode which is the same as Hard but this time you can't use items in battle. Speaking of items, that's another feature where items can be held up to 999 in amount.
The Pokemon roster also goes up to Gen 7 with a collection of all of them.
Pokemon Inclement Emerald Information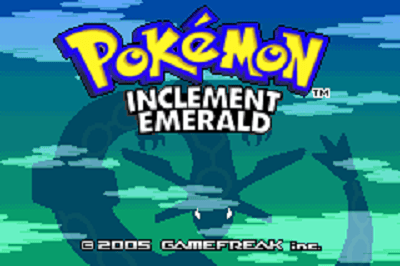 Feature List
Three Difficulties (Normal, Hard, and Challenge)
Pokemon Roster goes up to Gen 7 (with several Legendaries)
Pokedex shows a Pokemon's stats, moves, and more
A custom EXP share for all Pokemon in the party
Around 100 TMs and 8 HMs to use and 143 from Tutor Moves
TMs can be reused
Enemies will scale with your level
Bag can hold 999 quantity for each items
Mega Evolution
Moves, Abilities, and Items have been updated from Gen 4 to 7
Pokemon that evolve through trade may no longer need to be traded to evolve
Screenshots
NOTE: PATCHING IS REQUIRED TO PLAY THIS GAME!
We don't share pre-patched rom hacks and roms – sharing these files is considered piracy, and it's illegal! Before you can play this game, you need to patch the downloaded file to a clean base rom. To learn more on how to patch, check this guide.
Pokemon Inclement Emerald Download
---
Credits

PRET: pokeemerald
Dizzy Egg: Battle Engine, Pokémon Expansion, Item Expansion, nature-coloured stats
RHH: Battle Engine, Pokémon Expansion, Item Expansion
Contributors to the Simple Modifications thread: various small changes
Ghoulslash: fast surf, medicine reuse, expanded OW IDs, plural giveitem, toggleable auto-run
Camthesaxman: expanded OW IDs
AsparagusEduardo: single purchase TMs, more bag pockets, Pokedex+
TheXaman: Pokedex+
lightbox87: whiteout money
NobodySociety: Fire Red style fishing
Zeturic: wrapping summary screen, move items in summary screen
Lunos: OW poison changes, Gracidea form change
Furret: Music Expansion (HGSS and DPPt tracks)
SamuRH/Xhizy: RHH/PRET intro
Chaos Rush, Mr. Dollsteak, contributors to the DS-Style sprite resources: Pokémon sprites
Fans of EXWY and PSPM: This hack wouldn't be the same without some of the fantastic suggestions you've all provided over the years, and I always appreciate hearing from you! I hope this one lives up to the hype even though it's eight months late. Looking forward to seeing those Hall of Fame screenshots!