If you played Pokemon Outlaw, then you'll love its sequel, which is Pokemon Korosu. The word korosu in Japanese means "kills". That's a bit morbid, but that's one of the features in the game where you can actually kill enemy trainers. The kill is simply implied and on a black screen so you don't see any violence.
Featured Videos
Korosu has some of the dialogue from Outlaw which is for a bit more mature audience but either way, it's Pokemon. This is an interesting Pokemon GBA ROM hack that was made back in 2016 and has gotten recent updates in the past year.
This is an interesting hack to play when you want to be invested in a somewhat mature story and more.
Details on Pokemon Korosu
Check Out These Other ROM Hacks
Story
The story takes place over a decade after Outlaw. Your character's parents are murdered, and you are taken away to be one of those to be used for human trafficking. That sounds bad, but you escape their clutches and have to find a way to put an end to this once and for all. You start it out with your faithful Ghastly partner which will evolve later on. Explore two Regions to get your freedom.
Features
The game does have a serious tone when it comes to the story and even some mature language with a couple of cursing. You even have the option to kill some of those trainers that you fought.
Although, there really is no effect whether you kill them or not. Think of it as just a feature if you want to. It is still a Pokemon game so this means that you need to catch, train, and battle others along the way. It is a pretty straightforward ROM hack with all things considered.
Pokemon Korosu Information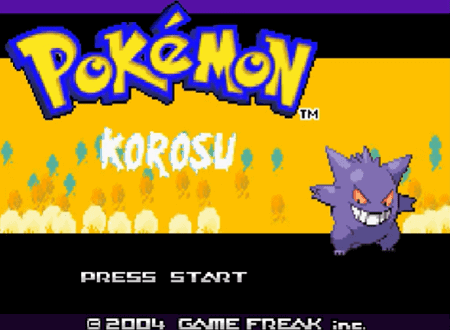 Feature List
A more mature and serious story
Have a choice to kill off some trainers
Pokemon roster goes up to Gen 6 (Although not all are available)
Physical and Special split
Black and White 2 Repel System
Screenshots
NOTE: PATCHING IS REQUIRED TO PLAY THIS GAME!
We don't share pre-patched rom hacks and roms – sharing these files is considered piracy, and it's illegal! Before you can play this game, you need to patch the downloaded file to a clean base rom. To learn more on how to patch, check this guide.
Pokemon Korosu Download
---
Credits

Glasikino, diegoisawesome, FBI, Joexv, Spherical Ice, Mr. DollStreak, doesntknowhowtoplay, Jambo51, Darthatron, Kyledove, El Diabeetus, Rodriguezjames55, danny317, Dionen, Vendily, Supersoursky, Romancandle, Dream engine, Chaos Rush