Pokemon Giratina Strikes Back is a ROM hack of Pokemon Ruby. The hack was started back in 2011, and it has been getting updates it is at a state where it is good to go. It has an interesting story with the villains trying to call forth Giratina to wreak some havoc in the world.
Featured Videos
The game also has an array of Fakemon, or those that aren't actual Pokemon in the original games. That's not a bad thing, and that also means that you have more to catch in this game.
Traverse through the entire story, complete quests, and partake in battles to prevent Giratina from coming, and don't forget about the Gyms.
Also read:
Details on Pokemon Giratina Strikes Back
Story
In Giratina Strikes Back, you are a 13-year-old or girl in the Lunoh Region. Your father, who owns EDGE Co. calls you so that you can fulfill his childhood dream of being a Pokemon Master.
You are given an Eevee, and you set out in the Lunoh Region fighting trainers, Gym Leaders, and Team Genesis. Make sure to stop Team Genesis from summoning Giratina.
Features
You have Eevee as your starting Pokemon, and you can pretty much buy Evolution Stones later on so that you can evolve it any way you want. Speaking of Eevee evolutions, you just need to Sun Stone or Moon Stone to evolve Eevee into Espeon or Umbreon.
The Fakemon are also situated in certain locations in the game, so catch them when you can. It is also a bit unclear how many or which specific Pokemon make up the roster.
Pokemon Giratina Strikes Back Information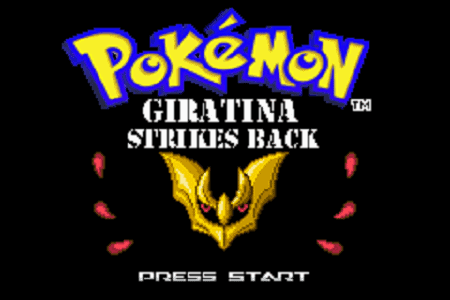 Pokemon Giratina Strikes Back
Creator: Sloo
Game Base: Ruby
Language: English
Cheats: Click here
Feature List
Eevee as a starter Pokemon
No need for trade evolutions
You can run indoors
Altered sprites in the game
All Evolution Stones are available for sale
11 Gym Leaders to beat
No Physical and Special split
A ton of Fakemon to catch
Screenshots
Pokemon Giratina Strikes Back Download
---