In any normal Pokemon main series game, there are always 8 Gyms. However, in Gen 7, Gym Leaders weren't available because the Trial Captains took their place. Then, there are the Gen 2 games, along with their Gen 4 remakes. Those games have around 16 Gym Leaders, which adds a lot of content post-game.
That's why we're going to compile a list of the Top 10 Pokemon ROM hacks with over 16 Gyms. ROM hacks are always creative, and there are those that have a lot of Gyms that surpass the normal 8. In fact, a lot of these are 16 or more which we will tackle.
Featured Videos
Other Best List Articles
List of the 10 Best Pokemon ROM Hacks with Over 16 Gyms
10) Pokemon Crystal Kaizo
Pokemon Crystal Kaizo opens up our list of the best Pokemon ROM hacks with over 16 Gyms. If you didn't know, this hack is a sequel to another hack called Blue Kaizo.
This hack, though, despite being a sequel, follows the story of Crystal since it is what the base is. Crystal Kaizo and other Kaizo games are infamous for being hard and unfair.
There is a feature where you are not allowed to use revive items during battle. That's insane, and you have to beat all 16 Gym Leaders, not to mention 8 Elite Four members and 2 Champions.
Notable Features
Pokemon roster goes up to Gen 2
No Trade evolution needed
Very hard
09) Pokemon Crystal Dust
This hack is a straight-up remake attempt of Crystal. It uses Emerald as its base, and with the nice additions of updated sprites. The game looks promising, but nothing major has been added because the game isn't hard, but some features have been updated.
It is still pretty much Crystal with the same story and without some of the newer features. Think of it as a way to play an updated Crystal if the GBC version isn't that applicable today.
Notable Features
Same Story as Crystal
Roster goes up to Gen 2
Day and Night cycle
08) Pokemon Resolute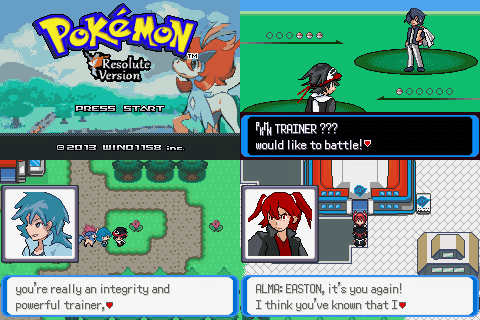 Here we have Pokemon Resolute, which has an original story. It involves you going on the path of being a great Pokemon trainer as well as dealing with the troublemakers called Team Mirage.
It's a worthwhile endeavor, and the features are also well enough. You have Mega Evolutions and several Alolan Pokemon available for you to get. The hack also has some new tiles and altered sprites for your enjoyment.
Notable Features
Three Regions to explore (More Gym Leaders)
Roster goes up to Gen 7
Mega Evolution
07) Pokemon Kalos Crystal
This is another Crystal remake hack on our list of the best Pokemon ROM hacks with over 16 Gyms. Kalos Crystal has the same story as Crystal, but the twist here is that instead of using Gen 2 Pokemon, you're using Gen 6.
You get the Kalos Starters and pretty much Kalos Pokemon scattered all over the map. You'll gain access to some Pokemon later on, but for the most part, you start with Gen 6 first.
Fairy-type has also been added, and it is Special along with Ghost. Dark is tagged as Physical due to this hack being a GBC one.
Notable Features
Use Gen 6 Pokemon
No Trade Evolution
Catch and Obtain all Pokemon in the game
06) Pokemon Pyrite
Pyrite is another hack on this list that is a take on Crystal. It is a GBC ROM, and the story is the same as Crystal's. You pretty much get the same everything, but one of the selling points of Pyrite is that it is harder than regular Crystal.
The good thing is that some aspects have been balanced to a certain degree. Plus, the game boasts of adding 100 more enemy Trainers, so that's more for you to deal with.
Notable Features
Harder than Crystal
100 Trainers added
Events
05) Pokemon Light Platinum
Pokemon Light Platinum sits at the halfway point of our best Pokemon ROM hacks with over 16 Gyms list. Just to be clear, this is the GBA hack version, so don't confuse it with the DS hack of the same name.
Light Platinum has an interesting story, and you have to travel through multiple Regions. Those Regions mean a ton of Gym Leaders for you to encounter. You also get a ton of features with the roster being made up of multiple Gen Pokemon.
Notable Features
Explore multiple Regions
Altered sprites
Pokemon World Championship
04) Pokemon Crystal Clear
We're back again with another Crystal remake but with a very good twist. Crystal Clear has an interesting concept where you can start anywhere you want.
You can start in Johto or even in Kanto. You're taking the Crystal story on a different path. The game scales with your level, so you can go wherever you want. You also choose from around 30 Starters to begin your game.
It has the open-world concept down to good detail. Character customization is also intensive, so this hack is worth your while.
Notable Features
Over 250 Pokemon until Gen 2
Select from 30 Starters
Rematch Gym Leaders
03) Pokemon Liquid Crystal
We're in the top 3 of our best Pokemon ROM hacks with over 16 Gyms. We have yet again another hack that attempts to remake Crystal. It uses FireRed as its base, so at least that's different. It pretty much has everything that Crystal has. It has the same roster, story, events, and features. Some features have been added to the hack, and more than just a graphical update to the GBC version.
Notable Features
Roster goes up to Gen 2
Day and Night cycle
Weather system
02) Pokemon Prism
Pokemon Prism uses Crystal as its base, and it is a GBC hack. Don't worry; while it does use Crystal as its base, it's not another Crystal remake attempt. You start off customizing your character to a great degree.
Then, you're dumped into a new world with a new story for you to explore. You even get a Larvitar as a starter but not by choice. One feature in the game allows you to control Pokemon on the field and do things.
Notable Features
Character customization
Explore multiple Regions
Crafting system
01) Pokemon Glazed
The number one game on our best Pokemon ROM hacks with over 16 Gyms is Pokemon Glazed. There are other versions of Glazed, like Glazed Reborn, Blazed Glazed, and others.
Those other versions add features, but Glazed is good enough on its own. Explore the Region of Tunod as well as other Regions later on, opening up to more Gym Leaders. The game has altered graphics and more Pokemon for you to catch.
Don't forget about that Pikachu with a scarf that is stalking you.
In Closing
These are the top 10 Pokemon ROM hacks with over 16 Gyms. You'll also notice that a lot of the games are based on Crystal or Crystal remakes. That's a testament to how good the game was back in the day.
It's a bit unfortunate that there isn't an official Crystal remake, especially with today's Nintendo consoles.
Even the female character Kris, the first playable female character, has yet to return. That being said, there might be more hacks out there that will have at least 8 Gyms. Maybe one day, an official Pokemon game will have more than 8 Gyms as well.