Pokemon Emerald is definitely one of the all-time favorites in the series. That's why a lot of ROM hacks like Pokemon Blazing Emerald are released based on the game. Players love Emerald so much that they want to experience it in a lot of different ways.
And this is where The Blazing Emerald comes in…
Featured Videos
In terms of story, it is still the same as Emerald. But in terms of features, this is where the added changes come into play. All in all, the game looks the same but with some minor changes.
For example, you'll notice some Pokemons have additional details displayed — especially the special ones. Plus, you have a lot more to deal with in this ROM hack.
Details on Pokemon Blazing Emerald
Story
Pokemon Blazing Emerald's story is the same as Emerald. You start off in your Pokemon Adventure fighting trainers, Gym Leaders, and hopefully become the Champion. Don't forget about the threat of Team Magma or Aqua and the important plot points in Emerald. Basically, if you've played Emerald over and over, then nothing has been changed.
Features
It does start you off with three starters namely Pikachu, Eevee, and Clefairy. If you're also craving for a challenge, you'll be happy to know that the in-game AI has been improved… but not to a point where it is more challenging.
The Pokemon Stats and its types have also been updated to the later Generations. Which means Fairy-type is present. The Pokemon roster also extends up to the later Generations with new items.
Pokemon Blazing Emerald Game Information
Pokemon Blazing Emerald
Creator: Struedelmuffin
Game Base: Emerald
Language: English
Source: Link
Cheats: Click here
Feature List
Choose from three Starter Pokemon namely Pikachu, Eevee, and Clefairy
Pokemon roster goes up to the later Generations
Enemy AI has been improved giving the game a nice challenge
Some items and Poke Balls have been updated up to Generation VII
Several trainers and Gym Leaders have altered Pokemon rather than having the same from Emerald
Available day and night cycle
Several music used in the DS games
Certain character and Pokemon sprites have been altered and have added details
Physical and Special split based on Generation IV
Stat Scanner allows you to check your Pokemon's IV and EV values
Link Stone is available in the game to evolve Pokemon without the need to trade them
Screenshots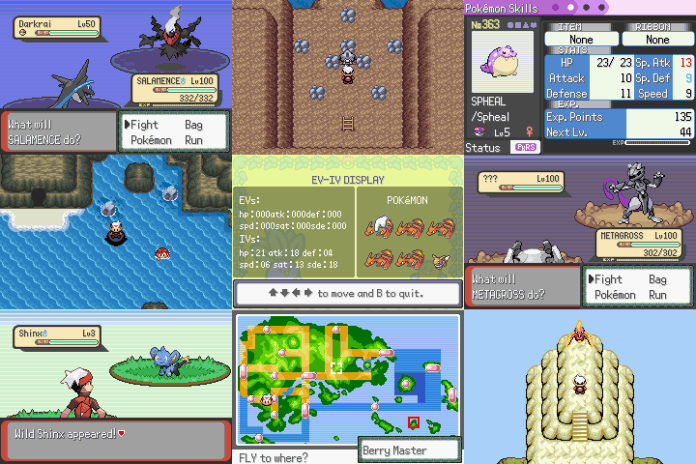 NOTE: PATCHING IS REQUIRED TO PLAY THIS GAME!
We don't share pre-patched rom hacks and roms – sharing these files is considered piracy, and it's illegal! Before you can play this game, you need to patch the downloaded file to a clean base rom. To learn more on how to patch, check this guide.
Pokemon Blazing Emerald Download
---