The GBA games were only up to Gen 3. Gen 4 started during the NDS era, but being under the realm of Pokemon ROM hacks, Gen 4 has made its way to numerous ROM hacks. One of those hacks would be Pokemon Sinnoh Legacy which is a hack of FireRed but utilizes Pokemon from Gen 4.
Another interesting ROM hack that has Gen 4 Pokemon is Liquid Crystal which you can check out, and our list of 15 Best Pokemon Rom Hacks With Mega Evolution.
Featured Videos
Unfortunately, we are not able to secure a file that is suitable to be shared. Maybe we'll update the page in the future where you can download the Sinnoh Legacy ROM in IPS or UPS formats.
If you do get these files, feel free to use our guide on how you can patch the ROM using a FireRed one.
Other ROM Hacks to Check Out
Pokemon Sinnoh Legacy Details and More
Story
Sinnoh Legacy has a modified take on Platinum. If you've played Pokemon Platinum, you'll notice the similarities with how the game starts.
In fact, a lot of the elements of the story are the same, but you may notice some differences later on. It's your typical Pokemon story where you must become the best Trainer.
Features
The game starts with Gen 4 Pokemon, but later on, you can get Pokemon from different Generations. There are currently 649 available in the latest version, and that may increase somewhere down the road.
Time Traveling is also an interesting feature added. Think about games like a Link to the Past where several parts will require you to time travel.
Also see: Completed Pokemon ROM Hacks List
More Regions are also available for players to explore, as well as new game tools like TMs, Moves, and more.
Pokemon Sinnoh Legacy Information
Pokemon Sinnoh Legacy
Creator: kearnseyboy6
Game Base: FireRed
Language: English
Source: Link
Feature List
649 Pokemon Available from Different Generations
Different Regions to Explore
Time Traveling Feature
95 TMs to use
Side Quests Available
New Music added
New Tiles
New Moves and Effects available
Game is slightly harder
Screenshots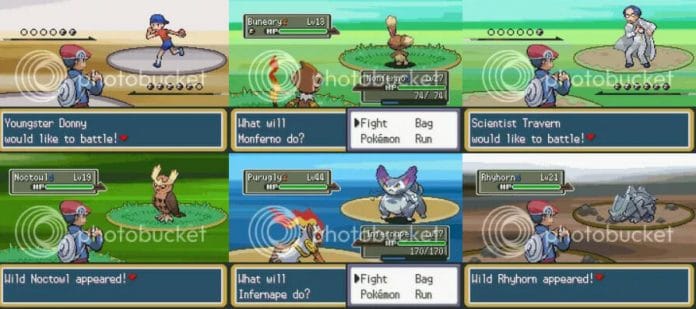 ---
Credits

Doesntknowhowtoplay – Trainer EV's and Pokedex expansion
Knizz – Miscellaneous fixes like grass animations
Daniils – Ball Hacking
Jambo51 – New evolution methods, trainer music and so much more!
GogoJJTech – Music tutorials
Karatekid552 – BattleBackgrounds and his tools
Nex, Kyledove, WesleyFG, Alucus – Tiles and animations
Mr.Dollsteak – His super awesome patch
Diegoisawesome – His miscellaneous patches
FBI Agent – His ASM routines which are awesome!