Another interesting Pokemon ROM hack that we've added to our list is Pokemon Dreams. This is a ROM hack based on FireRed set in a new region of Solda and more. It is your typical Pokemon game where your character goes off on a journey to become a Pokemon Master and does all sorts of things along the way.
What we like more about Pokemon Dreams and some other rom hacks is the feature for Mega evolution. This feature is no doubt one of the sought after by many players are their criteria for choosing the next game to play.
Featured Videos
We're going to dig deeper into this game so that you can play and enjoy it. We'll add everything you need to know, from the features and other important things in this game, plus a bonus of cheats.
Good thing we were able to collect some working Pokemon Dreams cheats, and these can be handy as you go along the journey in the game.
Just remember, it is a ROM hack, and even though it is complete, it may have some bugs that haven't been discovered yet.
FireRed ROM Hacks You Can Take a Look
Pokemon Dreams Details and More
Story
Your character travels into the Region of Solda arriving in Thicket Town. The character starts off their typical beginnings when it comes to being a Pokemon Master. Many characters will be entangled in your journey, as well as a boy who dreams of overcoming his brother, who is a Gym Leader. Follow the story until you become a Pokemon Master.
Features
Pokemon Dreams has the basic elements and features that every other Pokemon game has. Players have to catch Pokemon, and the roster goes up to Gen 7 with over 800 Pokemon. There is also around 30 Fakemon available in the game.
A lot of the features, like items, types, and more have been updated until Gen 7. The Dexnav also appears here, which is based on the same feature from Alpha Sapphire and Omega Ruby. There is also post-game content that you can skim through.
Pokemon Dreams Information
Pokemon Dreams
Creator: MonopolyRubix
Game Base: FireRed
Language: English
Source: Link
Cheats: Click here
Feature List
Pokemon Roster goes up to 844
Pokemon go up to Gen 7
Around 35 Fakemon to catch
Moves and Types are updated up to Gen 7
Mega Evolutions included
Physical/Special Split
No need to Trade for Pokemon that evolve through Trade
TMs are reusable
Total of 120 TMs
New music added
Screenshots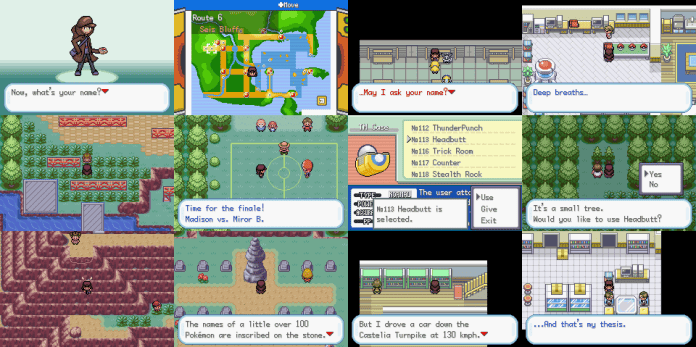 NOTE: PATCHING IS REQUIRED TO PLAY THIS GAME!
We don't share pre-patched rom hacks and roms – sharing these files is considered piracy, and it's illegal! Before you can play this game, you need to patch the downloaded file to a clean base rom. To learn more on how to patch, check this guide.
Pokemon Dreams Download (UPS)
---
Credits

CFRU
Everyone who worked on the Complete Firered Upgrade and Dynamic Dex Expansion. The thread is here, and the credits are as follows:

Skeli- primary developer
ghoulslash – primary developer
Pret Team – decomps
DizzyEgg – Emerald Battle Engine Upgrade Source
FBI – DexNav Source, Saveblock Expansion
Touched – Mega Evolution
Navenatox – Dynamic Overworld Palettes
Zeturic – Various Fixes
JPAN – Hacked Engine Source Code
azurile13 – Hidden Abilities
DoesntKnowHowToPlay – Pokedex Screen Stats, Trainer's with EVs source
Squeetz – Pokedex Screen Stats, Footstep noises
Diegoisawesome – Triple Layer Tiles
Jiangzhengwenjz – Linux compatibility
Golche – Attack Particles, Battle Backgrounds, Other Graphics
Lixdel – Attack Animations
Bela – Poké Balls
Solo993 – Backsprites
Criminon – Mega Indicators, testing
canstockphoto.ca – Battle Backgrounds
Dionen – testing
Gail – testing
Recko Juice – testing
Anyone who played the Unbound Battle Tower Demo in its early stages – testing

MIDIs

Chibi Vegetto – Bein Friends
Scott Mtc – Prof Sycamore's Theme
I Have a Beard – Let the Battles Begin
Uncredited KHInsider.com user – Snake Man's Stage
Kiopineapple – Sammer's Kingdom
GarageBandPoke – XD Cipher Peon Battle
Greg Edwards – Purify Chamber
Daniel Lawrence – Miror B. Battle
Nes370I – Past Below
Uncredited vgmusic.com user – Fight On
The Tactician Musician – Roaming the Wastes
TryceSirus – Overworld (Spirit Tracks)
Cesar Ocasio – Battle 3 (Final Fantasy Mystic Quest)
soneek – Ripped Pokemon Colosseum midis
Blue Magikarp – Kalos Elite 4
Revle – Alola Elite 4
ShinkoNetCravy – Alola trainer battle, Ultra Beast Battle, and Solgaleo/Lunala Battle
Jackson Wilking (Trumpets of Onett) – Time to Fight (Bionis Shoulder)
Spencer Riffe and Joozhuah – Twilight of the Gods
ZenithAegis – Xerneas/Yveltal Battle

Tools

LU-HO – AdvancedMap
Micael Alighieri – Editing AdvanceMap to include expanded Pokemon
HackMew – Advanced Palette Editor, Free Space Finder, XSE
Kurapika, Jambo51 and Gamer2020 – G3T
LocksmithArmy – Intro Text Editor
link12552 – Nameless Sprite Editor
D-Trogh and Darthatron – NTME
score_under – PKSV
andiandi – Trader Advanced
loadingNOW – unlz GBA
The Helmeted Rodent – Sappy 2006
Nintenlord – NUPS

Tutorials/Help/Other

Space Raton – Helping with documentation and testing
Chaos Rush – Editing height/width of town map areas
jiangzhengwenjzw – Additional movement bytes
Magnius – Documentation on Firered voicegroups
karatekid552 – Flag/Var documentation
Aspiring PokeTrainer – Town Map editing tutorial
Klofkac – Editing area entry images
thedarkdragon11 – Item Icon Sprites
Dr. Seuss – Changing Fly Sprites
SphericalIce – Documenting scripting commands
soupercell – Help setting up gen 6 EXP Share
kalarie – Town Map help
mew222, Off_Piste, DimentioMan97 – Feedback/Fakemon/Support