Pokemon Emerald is one of the three main games that came out for the Game Boy Advance system. However, it's been almost two decades since this favorite game for the Game Boy Advance was released.
Featured Videos
There are still GBA and Emerald cartridges out there, but some people still want to know how to play Pokemon Emerald on PC.
With the technology today, there are various methods to play Pokemon Emerald or any of the other classic games that don't require a Nintendo system.
Emulators are available for PC, and if you don't know how to use them, these steps will help you.
You won't just be playing Emerald alone, but a lot of the other classic titles as well.
Other Related Topics:
How to Play Pokemon Emerald on PC
Getting the Emerald ROM
Before we even dive into the emulators, the first thing that you should do is find a Pokemon Emerald ROM.
Unfortunately, we do not have any available patched Pokemon Emerald ROM or any other Pokemon games on this site. It is just a strict rule that we do not share these files here at Pokemoncoders.
If you want to find a Pokemon Emerald ROM, you just have to find one on the internet.
The file should always come in a .GBA format. If it isn't in the .GBA format, the emulator won't be able to run it.
Some files come in ZIP format. Just unzip the file and you'll get the Pokemon Emerald GBA file format.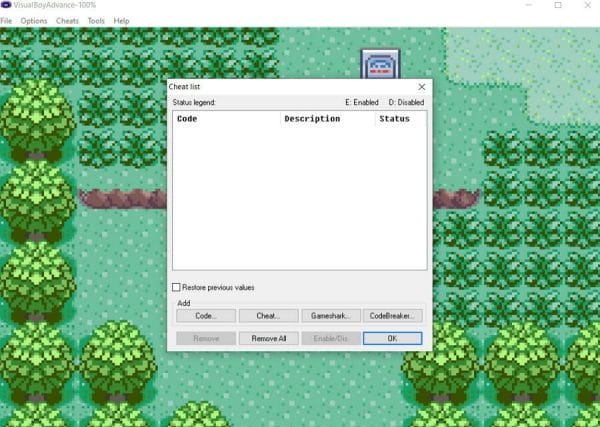 Downloading an Emulator
While sharing patched ROM files is something that we can't do, we can share some emulators or websites where you can download them.
We do not make or own emulators, and all we do is share the download link. The link below will direct you to where you can get some good GBA emulators, specifically those we highly recommend.
Just remember to download from an authentic site. Stay away from those questionable ones that will ask you to register.
These emulators are free and have been around for years. Choose the one that you feel is right for you. We highly recommend using Visual Boy Advance, especially if you plan to use cheats.
To know more about which GBA Emulators are good to get, CLICK HERE.
What Is an Emulator?
The emulator is the program that you will use to run or play Pokemon Emerald. Think of it as the Game Boy Advance system for other platforms like PC and mobile.
When you run a GBA emulator, you can select the available ROMs or games that you have on your PC that will run on it.
Pokemon Emerald or Pokemon games for that matter are not the only games that will run on a GBA emulator.
Any game released for the Game Boy Advance will have the .GBA file format and should run fine on the most popular emulators today. This is what you need to run Emerald, and you have to download one first.
Emulator Features That You Might Like:
Quick Save and Quick Load (Save States)
Turbo Button
Allowed to use Cheats
Gameplay Recording
How to Use an Emulator
Regardless of which GBA emulator you download, they will always function the same.
These are the simple steps on how to launch and play Pokemon Emerald for PC.
STEP 1: Launch the Emulator
We're using the VBA (Visual Boy Advance) as our sample.
Launch the emulator when it is already unzipped from your PC. Double-clicking should do the trick or just right-click and open.
STEP 2: Select the Game
Select the game from your computer's files. Just find Pokemon Emerald from wherever you saved it on your PC.
STEP 3: Launch the Game
Just launch the Emerald ROM hack, and you're good to go.
Adjust any of the settings if needed and browse through the available features that the emulator has.
In Closing
Those are just the steps and important things you need to remember when you want to know how to play Pokemon Emerald on PC.
Download the Emerald ROM and download the emulator that you want which is available through the link that we gave above along with our suggestions.
Using a GBA emulator doesn't just let you play Emerald and Pokemon games, but as well as other GBA games. This also opens to playing Emerald-based ROM hacks that are available out there.
Make sure that they are in the .GBA file format and not UPS, IPS, or BPS formats.