When you plan on looking for the best GBA Emulator for PC, there are a lot of them. However, you would only want to use the ones that are functional and have some features that you can take advantage of when it comes to gaming experience.
More than a decade ago when the Game Boy Advance handheld console was released, it was quite popular that day. The production of this gaming console has stopped, but thanks to programmers who invented the emulation technology, we can play those good old games.
Featured Videos
When we talk about emulation, we are not looking into much more advanced features, rather a useful emulator that can run smoothly on PC. Another good thing about emulators is that they are free to use. Here are the top 5 of the best Game Boy Advance emulators that can be used on your PC.
Best Game Boy Advance (GBA) Emulators for Windows PC
Pro tips: You can also install Bluestacks to emulate Android in your PC, using the software you can run a GBA emulator for android such as My Boy or John GBA on your computer.
Though it's possible to run Android apps on PC for Game Boy Advance emulation, we'll stick to the traditional way of using Windows PC applications for the sake of the discussion.
Also read: 4 Best GBA Emulators for Android
05. Higan
Higan is like the all in one emulator or referred to as multi-system emulator. That's because it is a good GBA emulator, it also emulates other game systems. These would include the NES, SNES, Gameboy, GBC, Mega Drive, Game Gear, SEGA Master System, Genesis, Wonderswan, Wonderswan Color, and the PC Engine.
Strengths
Higan, as we mentioned, is able to launch and play different games from different systems. This is convenient if you feel like you want to change a game from playing those that are from a GBA system. Just set those controls ahead of time of course. Plus again there are no issues when it comes to the GBA emulation.
Weaknesses
One thing is that depending on the version or where you download the emulator, some of the ROMs, especially from other games, may run into an error. Lacks of advanced features, plus you may have to download some BIOs along the way.
04. No$GBA

The No$GBA fulfills the basic role of being an emulator and having other features as well. In terms of emulation, there are no issues with this one. The games are smooth and the sound is clear. You are also treated to a series of good incentives.
Strengths
The No$GBA emulator can also run Nintendo DS ROMs. Just make sure to input the controls that are different from the GBA controls. You can even input cheats on this one which makes it good and you can easily save screenshots.
Weaknesses
While you can play Nintendo DS ROMs, there are times when the game crashes. It is better to just use the No$DS emulator or a better DS emulator. This emulator also doesn't have a quick save and quick load feature which some people want. Plus you can't speed up the games as well as change the size of the screen other than the default small one or the full-screen mode.
03. VBA-M
The VBA-M is a basic but good emulator that you can download and use when you want to play GBA games. This emulator can also launch Gameboy and Game Boy Color games as well as having the features of being able to put cheats. The frame rate is good and you also have the basic features like being able to use save states and adjust the settings in all aspects.
Strengths
The VBA-M is smooth and is capable of loading more than just GBA games. You can use this when you love to play multiple games and you don't need to worry about the hassle of changing emulators. The game doesn't lag nor does the frame rate drop and it is good for PCs that are not that high when it comes to their processing power.
Weaknesses
There are multiple versions of the emulator and you need to find the right one. There are versions that are a bit of a problem that still have a lot of problems. These could be poor frame rate or in some cases, there is no audio. There are also two screen sizes of the emulator which are the full screen and default resolution. You can't adjust it to make it smaller or bigger manually that is.
02. mGBA

The mGBA emulator is much like the previous emulators are good. It fulfills the role of being a reliable and functioning emulator for the GBA. The memory on this one is a bit higher though but that's okay. You can change the screen size to any resolution other than the default and the full-screen ones.
Strengths
The mGBA can support independent controllers plugged in the USB port of the PC. You don't have to rely on the keyboard alone and you can sit back and relax while using the controller to play the games. It also has the most wanted functions like quick save and load as well being able fast forward although the controls are fixed for that one.
Weaknesses
Perhaps the only weakness and it could be nitpicking is that you can't put cheats or change some of the controls.
01. Visual Boy Advance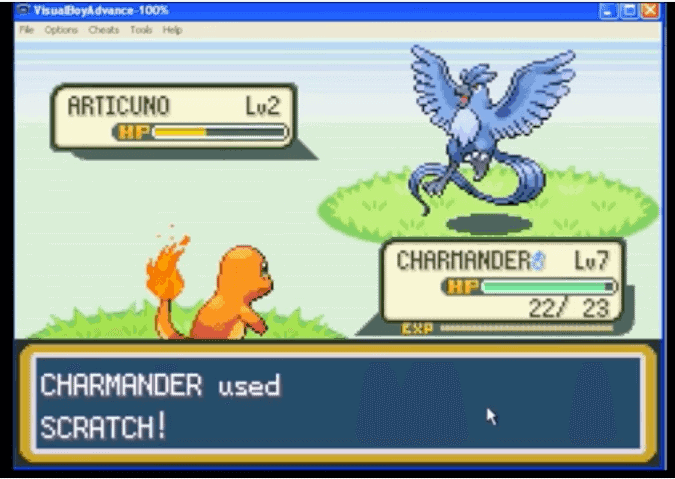 The Visual Boy Advance or VBA is considered as the best Game Boy Advance emulator by a lot of people. It fulfills the basic and advanced functions of any GBA emulator available. You can also play Gameboy and Gameboy Color games. It also has a lot of incentives and you can call this as a simple emulator, but overall it truly serve its purpose as it is optimized for CPU emulation for better gaming experience.
Strengths
It has a lot of strengths like having a quick save and quick load feature. You can also run Game Boy Color, and input cheats and save screenshots with ease. In terms of the turbo button, you can adjust the speed of how fast you want the boost to happen, but the Visual Boy Advance can have the fastest turbo button available by default. This is the additional feature that users usually find useful in every emulator.
Weaknesses
It isn't an exaggeration to say that this emulator has no weakness. If there would be issues, then it falls into the ROM and not the system.
Other Supported Emulation
Majority of the listed emulators above also support emulation for Game Boy, Game Boy Color, NEDS, SNES and more. While No$GBA can run Nintendo DS roms.
Conclusion
Importing your favorite game rom file using these emulators is breeze, these are our handpicked best GBA emulators for PC, you can go and test them if you want to. These emulators don't have high memory space and requirements and most importantly they are free.