The next ROM hack we will discuss is Pokemon Saiph 2 The VytroVerse Part 3. Let's just call it Saiph 2, but there's a reason why it's titled that way. The creator of this ROM hack #Vytron has this as his third ROM hack.
The first one is Pokemon Saiph and the second one is Pokemon SORS. All three of these games take place in the same timeline, which is the VytroVerse.
Featured Videos
The timeline is Saiph 1, then Saiph 2, and then SORS. The good thing is that you don't need to play any of the games before playing this one.
Also check: Pokemon Saiph 2 Cheats
While these games have a connected story, it doesn't have much bearing because the hacks are just good. Regardless, we'll tackle Saiph 2 and all of its glory.
Other contents to check out
Pokemon Saiph 2 The VytroVerse Part 3 Details and More
Story
The story in Saiph 2 takes place three years after Saiph 1 and just several weeks before SORS. The characters Micah and Darlo make a return in Saiph 2.
They board a plane that crash-lands in the Regris Region. Much of this Region is a mystery and that's what you'll have to do throughout the game which is to figure out what's going on.
Features
The graphics have the same aesthetic as Saiph 2 and SORS. This game also has some production value when it has some original music playing.
The features are still vague, but we have interesting locations and probably a wide Pokemon roster based on the screenshots since the creator noted that it would go up to Gen 8 but may not have all of them.
Numerous side quests are also included in this game.
Pokemon Saiph 2 The VytroVerse Part 3 Information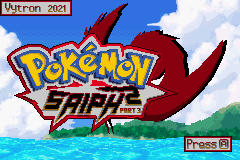 Feature List
A new region to explore, Regris! (And an extra surprise about regions in the end)
The Complete Fire Red Upgrade as the game engine… finally! (Items, moves, abilities, Pokémon, pss split etc. Updated to the latest standards)
Proper Battle AI
Multiple modes to play the game in! (Randomizer, Lvl scaling, exp all etc. These modes can be combined as you please!)
For the dedicated players: Hero Mode and Vigilante Mode!
Once again a full PokéDex now, including gen 8 too!
DexNav
Side Quests
Soaring & Diving (The classic HMs are present as Field Moves not requiring an HM taught)
Ancient Regression (It works like Mega Evolution)
Day/Night System and possible D&N events (the emulator needs to support RTC)
Battle Frontier
Emulator Compatibility (General Information)
Eclipse, VBA-M, No$GBA and the 3DS GBA VC are not compatible with this romhack!
VBA, mGBA, MyBoy, JohnGBA, and PizzaBoy 100% work (hardware like everdrive weren't tested)
Game made from "1636 – Pokemon Fire Red (U)(Squirrels)"
Screenshots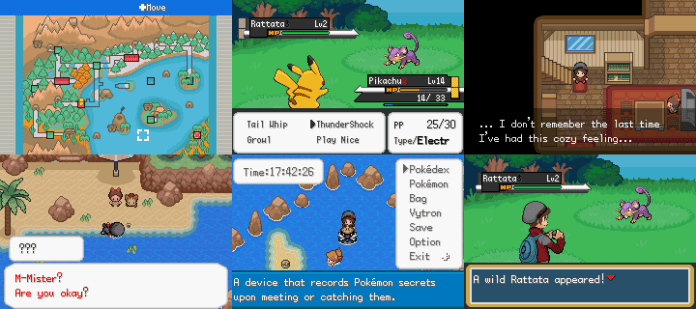 Pokemon Saiph 2 The VytroVerse Part 3
---
Credits

Chaos Guardian, DorkusDragon, Hyper, Skullcap_Linus, LokeiSmokei, Mirramig, Meomite, Epaul, Bellarena, Elgranr (Beta Testers)
Skeli -and everyone who contributed to it- (CFRU Game Engine & DPE)
Sivak Drac, Teck, ShinkoNet, Moxxa, Sean Bee, SHINE, King Meteor, Chron Dafter, Ryu Hokoru, Jeisson, Speedcrimson12, Mastered Realm,
MezmerKaiser, Some Body, Jace, MaliceX, Klaperz (Base midis, VGMusic users, Music, List may expand over time)
Hyo (Some parts of Micah's sprites)
hbdfreitas (BW Styled HP Bars)
Umbren (Starter Choice Poké Balls)
BlueRosie (Save File Screen Hack)
Vent & Ruki/Gold (Trainer Card)
Vent (Naming Screen)
CompuMax (New Options Screen)
FYTYNo1, DestvoL, Othienka, darkversekr, Nova (New Ancient Regression Form Sprites)
CrystalArk (PokéWalker Item Sprite)
Epaul (Cord Mod Sprites, Epaul Sprites, Micah End Credit Running Animation)
azimuth (EvIV Screen Code)
GoGoJJTech -and everyone who contributed to it- (For the DS Music Base giving me the soundfont I'm using)
Magiscarf, ChaoticCherryCake, princess-phoenix, WesleyFG, KingTapir, TheGreatZeKro, PkmnAlexandrite (Public Tilesets, will be expanded considering progression)