A lot of Pokemon ROM hacks out there go out of their way to make an emphasis on the story, so why not add one more which is Pokemon SORS. It is a ROM hack of FireRed, but the graphics look like the games from the NDS. That's a lot of extra effort to make the game look different from its base ROM. Don't forget about using new music and adding a couple of old ones.
Featured Videos
The game also has a new type or form which is the Eclipse-type. You might want to check that out when you get to play the game.
SORS has an interesting story and a ton of content that you can play through offering hours of gameplay. Get invested and have some fun when you eventually get to play this game.
On the other hand, luckily, we are able to find working Pokemon Sors Cheats to help you enjoy more of your SORS gaming experience.
More FireRed ROM Hacks You Can Play
Pokemon SORS Details and More
Story
Prior to the game, 300 hundred years ago, an event called "The Eclipse" happened in the Hupest Region. During the eclipse, Pokemon were going wild and getting different forms. Now, in the current timeline of the game, you must unravel the mystery of where the villain groups are trying to recreate the Eclipse.
They are actually doing good with it due to the fact that the Eclipse-type exists. Don't forget about doing the Pokemon elements like the other games.
Features
Let's start off with the fact that the Eclipse-type is available and only a couple of Pokemon have it. The roster itself goes up to Gen 7 with about 700+ Pokemon and 40+ Eclipse-type.
The graphics and visuals are based on the DS games like HGGS and B2W2. New music and sound have also been added as you explore the Hupest Region. There are also a couple of side quests that you can take in the game.
Pokemon SORS Information
Feature List
Pokemon Roster goes up to Gen 7 (700+)
Eclipse-type introduced (40+)
New Region of Hupest
Updated Moves up to Gen 7
Physical/Special Split
Day and Night Cycle
Soaring feature (allows you to fly over terrains)
Screenshots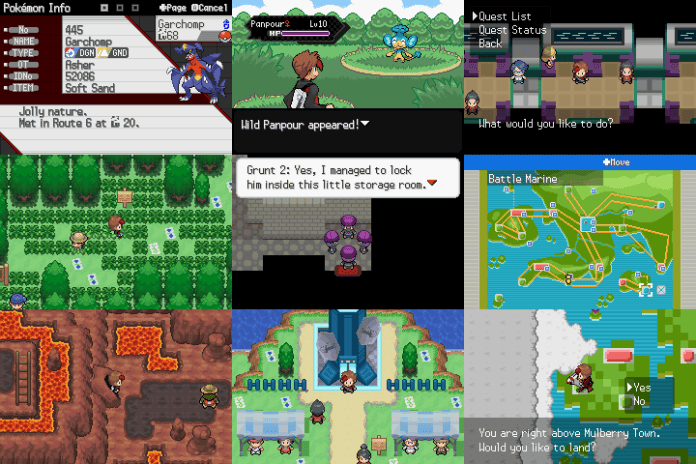 NOTE: PATCHING IS REQUIRED TO PLAY THIS GAME!
We don't share pre-patched rom hacks and roms – sharing these files is considered piracy, and it's illegal! Before you can play this game, you need to patch the downloaded file to a clean base rom. To learn more on how to patch, check this guide.
Pokemon SORS Download
---
Credits

Prof. Leon Dias and UltimaSoul (Big chunk of the game engine)
Sane Cola (Game's Fancy Logo, current one)
LukeeGD (for the sound engine)
ShinkoNet and VGMusic (help with some midis for the ost)
Kiy, usigusom, () and ???? (Selection screen)
Againsts (Summary screen)
Nisarg (Sprite for the Bags)
JK from Whack a Hack (Bag UI)
BoOmxBiG, Kyle-Dove, PixelMister, Phyromatical, ThatsSoWitty, KingTapir, princess-phoenix (Public Tilesets)
Sane Cola, apanda. and Jon Snow (Demo's Beta Testers)
Thale, LokeiSmokei, Meomite, Bogdan, SkullCapLinus (Full Game's Beta Testers)
Everyone from VRD (My Discord server) for the Support