There's no denying that Pokemon is a popular franchise. However, another franchise that is also popular is the Yu-Gi-Oh series. This series is a collective card game, one where people play with cards in real life.
Featured Videos
It has its own set of rules, and of course, there are numerous video games about it. That's where Yu-Gi-Oh PokeDuel comes into play, and when paired with some useful cheats, your gaming experience will surely turn different, see our collection of Yu-Gi-Oh PokeDuel cheats.
Yu-Gi-Oh PokeDuel is a ROM hack that is based on FireRed. The appeal here is that instead of using Pokemon, you use the characters and monsters from the different Yu-Gi-Oh cards. If you're familiar with the series, you'll find many familiar ones. This is an interesting ROM hack that we will dive into.
Other ROM hacks to check out
Yu-Gi-Oh PokeDuel Details and More
Story
The story of Yu-Gi-Oh PokeDuel is the same as FireRed. Unfortunately, the story hasn't been altered, so you're technically playing FireRed with Yu-Gi-Oh monster and character cards instead of Pokemon. That, in a way, is good because you probably know where to go.
Features
The game has altered graphics in some parts. This mostly goes to the Yu-Gi-Oh cards that are being used since they have their own sprites. This goes the same for some characters that were not in FireRed. There's also some music playing that came from the Yu-Gi-Oh animated series.
Speaking of the cards, there are a couple of them added and edited types and added moves up to recent Generations. It is still the same concept as any Pokemon game, but the cool thing is that Trainer battles are like Yu-Gi-Oh card duels.
Yu-Gi-Oh PokeDuel Information
Feature List
Pokemon are changed into Yu-Gi-Oh cards
Added 41 Custom Moves
Moves have been updated until Gen 7
There are more trainers in the game
Several Legendary Cards roam like Legendary Pokemon
Can run indoors
Shiny odds have been increased
Screenshots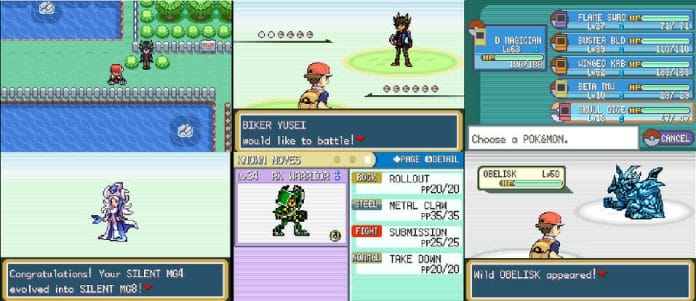 NOTE: PATCHING IS REQUIRED TO PLAY THIS GAME!
We don't share pre-patched rom hacks and roms – sharing these files is considered piracy, and it's illegal! Before you can play this game, you need to patch the downloaded file to a clean base rom. To learn more on how to patch, check this guide.
Yu-Gi-Oh PokeDuel Download (IPS)
---
Credits

– Sprites from V3 Onwards: elementalheroshadow, MetamorphOfChaos, TheGentlemanDM, Gol Acheron, Lukirioh!

– Input, bugs, modifications: Michyrr, cypherpulse

– Music: Patrick Lee, Duckleduckle

– Tools used: AdvanceMap, AdvanceSeries, AdvanceStarter, AdvanceTrainer, CryEditor, FreeSpaceFinder, Gen3Suite, Irfanview, MSPaint, NSE2.0, OWM, PokemonGameEditor, Sappy, YAPE