Pokemon clover is considered a good quality game that has plenty of features, new regions, original audio, items, and more. The team behind the project of Pokemon clover is somewhat very active in improving the game.
Featured Videos
Have you ever heard of the word fakemons? Well, that's the only name that you can't forget in your entire life.
The term Pokemon is now Fakemon, and there are an excellent 386 fakemons in this game. There are a bunch of improvements and enhanced custom features that you have to discover; that's why I would suggest downloading the game with haste.
Also see: Pokemon Clover Cheats
For extra fun, you might check our collection of cheat codes for Pokemon Clover. Cheating is often fun especially when you feel bored. But the game itself is so entertaining already, so it's up to you if you opt to use cheats or not.
---
Game Information
Pokemon Clover
Creator: There are plenty of them
Game base: Pokemon FireRed
Language: English
Source: Link
Features
386 original fakemon
Enhanced audio sampling
Brand new custom made music
Physical/special split + fairy type
Various updated mechanics
GSC-style berry trees
Wonder Trading
Mugshots for important characters
New custom Poké Balls
Black/White 2 Repel system
Gen 6 style capture-experience system
New custom items
Reusable TMs
HM moves are forgettable
Screenshots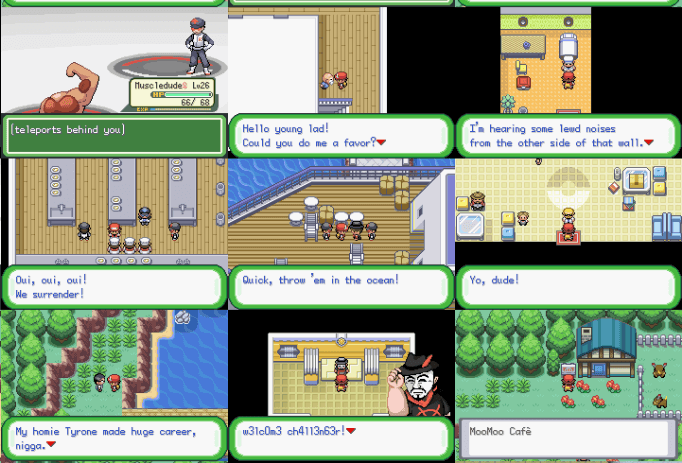 NOTE: PATCHING IS REQUIRED TO PLAY THIS GAME!
We don't share pre-patched rom hacks and roms – sharing these files is considered piracy, and it's illegal! Before you can play this game, you need to patch the downloaded file to a clean base rom. To learn more on how to patch, check this guide.
Download Pokemon Clover