Pokemon games and anime are usually associated with something being kid-friendly or something for everyone. There are ROM hacks out there that are a bit on the horror side, and one of them is Pokemon FireRed Distorted.
This hack uses FireRed as its base and function and plays the same way as another ROM hack called Pokemon Cursed Version.
Featured Videos
This hack is a bit tricky since its game dialogue is a combination of English and Italian. In fact, the ROM below requires the Italian version of FireRed.
If you use any other FireRed ROM, the hack will not play properly. That being said, let's dive into what makes this hack good enough for your time.
Feel free to also check this hack out called Pokemon Stigma Version.
Other ROM Hacks to Check Out and Play
Pokemon FireRed Distorted Details and More
Story
The story is a bit serious and dark when you think about it. You wake up like normal and find that the world is in chaos with hordes of undead rising from the grave. Pokemon and humans are all infected, and you have to uncover the mystery surrounding this epidemic.
Features
The hack is a straightforward game where it doesn't follow the usual Pokemon elements. You control your character and progress the story as intended.
There's not much in terms of actual content, and you don't even need to catch a lot of Pokemon. You start with a Hypno and move on from that.
The game also comes in English, but some parts may come out in Italian, so don't be surprised. Enjoy the plot, and there are no Gyms here, and the game is around 3 to 4 hours long.
Pokemon FireRed Distorted Information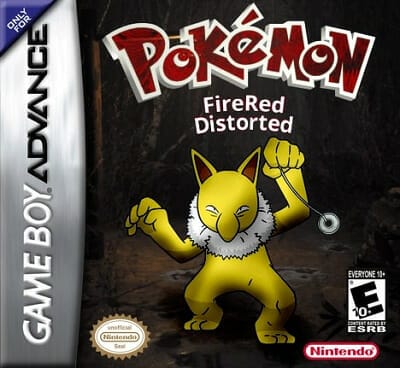 Pokemon FireRed Distorted
Creator: Whiskydog97
Game Base: FireRed
Language: English/Italian
Source: Link
Feature List
Plot-driven game
Mature storyline
New tiles
Standard battle system for Gen 3
Custom Pokemon and Character Sprites (Some Creepy)
Screenshots
Download Pokemon FireRed Distorted
IMPORTANT
The ROM file attached below is an IPS file. It is important to patch it with the Italian version of FireRed which is called Pokemon Rosso Fuoco or just search FireRed Italian and use that to patch the file.
---
Credits

80C(Help in different sprite, minisprite, mapping and plot);
IvanFGK(help minisprite, sprite e artwork);
Nishi7( logo);
Erikaa(sprite);
eMMe97(sprite);
Ledypion(creation Tile e sprite);
Zeus spriter(sprite);
Giovanni99021(sprite);
Nick Mirk(sprite)