There is a video game genre called roguelike or rogue-like. The concept is that you enter dungeons, and the zones are procedurally generated. What that means is that a zone can change every time you leave or exit the area. Enter, the ROM hack Pokemon Emerald Rogue, which has the motif of being a rogue-like game.
Featured Videos
The concept of this hack is very interesting, and it uses Emerald as the base. It still has concepts of a Pokemon game, catching Pokemon, and battling Trainers but with a lot of twists. We'll get into the details when it comes to this game.
Other Emerald-based ROM Hacks
Pokemon Emerald Rogue Details and More
Story
The story is the same concept where you just become a Pokemon Master or Champion.
Features
While the story doesn't seem to be much, it's the concept that you would want to get acclimated to. This game is a rogue-like, so here's how it works. You start in a zone where there is an area called the Hub.
The Hub is where you do your things like buy items, store your Pokemon, change your team, and others. When you leave the Hub, you choose which routes you go, which are procedurally generated.
Every time you enter these routes, you can encounter different Pokemon and decide whether you want to catch them. The end goal for each adventure you do is to get a Badge.
If you don't get the Badge, you can go back to the Hub and get stronger. Continue doing it until you get all the Badges which will take some time since the game scales in level. You can also do quests and get rewards to help you get stronger and get further in the game.
Pokemon Emerald Rogue Information
Feature List
A lot of the things are randomized (Pokemon[even Starters], areas, trainers, etc)
Character customization
Adjust the game's settings and other options at the Hub
Seeded Mode available
Mega Evolution
Galarian Forms
Screenshot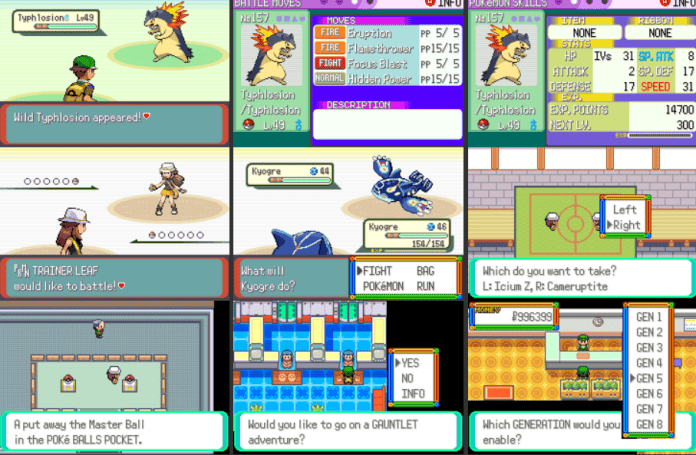 NOTE: PATCHING IS REQUIRED TO PLAY THIS GAME!
We don't share pre-patched rom hacks and roms – sharing these files is considered piracy, and it's illegal! Before you can play this game, you need to patch the downloaded file to a clean base rom. To learn more on how to patch, check this guide.
Download Pokemon Emerald Rogue
IMPORTANT: There are two versions which are EX and VANILLA. The EX or Expanded version is the recommended version. While the Vanilla is just a standard Pokemon Emerald battle mechanic.
---