Pokemon Emerald was released back in September of 2004. It is considered to be one of the best games in the series.
Featured Videos
Even though it wasn't the first game in Gen 3, it remains a beloved entry among many Pokemon fans. The common question from newer players is how to play Pokemon Emerald with Emulator.
Nowadays, it is hard to play Pokemon Emerald on official consoles unless you buy the Game Boy Advance system.
The other thing is that you need to buy an original cartridge of Pokemon Emerald online, but that would be a waste of time and money in this age, isn't it?
That's not a problem, since you can play on Emerald on different systems when you read through our guide. We did our best to make this guide as simple as possible for you to follow them easily.
How to Play Pokemon Emerald with Emulator on Windows PC
Let's start with the very first way of playing Pokemon games such as Emerald on an emulator, which is through the PC.
Even during the late 90s' and early 2000s', playing these games on a PC was the way to go. Even games on the Game Boy and Game Boy Color had emulators back then.
STEP 1 – Get the Emerald ROM
The first thing that you need to do is to download the Pokemon Emerald ROM. There are a lot of them and we don't have download links for the official one since that is not allowed (distributing roms is considered piracy and illegal).
However, feel free to browse through the internet and find a suitable copy of Emerald. They can be downloaded in ZIP files but they still have to be unzipped and become GBA files to play.
Pro tip: Try to find an Emerald V1.0 as this version works best with Pokemon emerald cheats.
STEP 2 – Download Your PC Emulator of Choice
There are emulators available online that you can see. A lot of these emulators are also free and are functioning very well.
For Windows users, we highly recommend using VBA. You can also see our selections for GBA emulators for PC. Check out our list of recommended GBA Emulators for PC.
STEP 3 – Launch the Game with Ease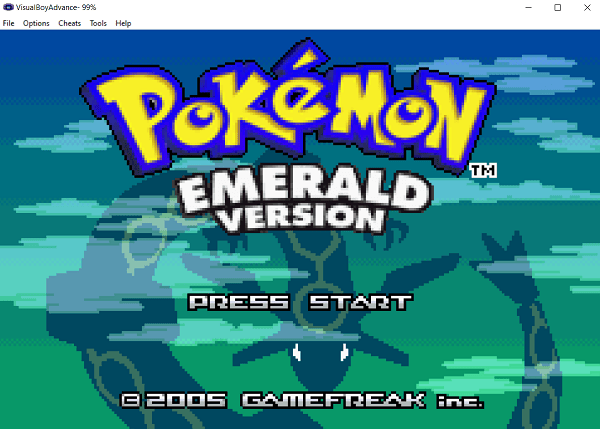 This last step is simple, launch your downloaded emulator.
They all have the same steps anyway, just press the select ROM or launch ROM, depending on what is available.
If there are no issues with the ROM or Emulator (which there usually aren't), you'll be playing Emerald on PC with ease. Don't forget to set up the controls and other features.
How to Play Pokemon Emerald with Emulator on Android
The steps for Android are almost the same as the PC method, the only exception is you'll do the downloading on an Android device.
The classic games can still be played with ease since these emulators and games don't require a powerful processing unit.
You don't need to have a PC when you can always get them for your Android device as well.
STEP 1 – Get the ROM
If your Android device has a web browser app, you can access the same websites where you can download Pokemon Emerald ROMs.
If the site doesn't load for your Android browser, you can simply load a different site.
STEP 2 – Get the Emulator
The way to download an emulator on Android is easier or trickier, depending on how you look at it.
On the PC, you just go to the website and download the emulator there. However, for Android, you can still go to the website.
The thing to keep in mind is that not all sites contain a downloadable emulator for Android devices. What's even worse is that you might find yourself opening eerie sites that might harm your device's privacy.
That's where the Google Play Store comes in. Aside from apps and mobile games, you can download GBA and even Nintendo DS emulators from here.
Simply write the keywords GBA EMULATOR and you'll have a plethora of choices for which emulator you want. Take a look at the feedback to see if they are good.
Just remember some of these emulators aren't free, but if you're willing to pay, then that shouldn't be a problem.
Pro tip: For the best emerald gaming experience, we suggest using MyBoy. We have tested so many emulators, and MyBoy consistently outperforms the competition in terms of speed, compatibility, and user-friendly features. Myboy also works very well with cheats.
STEP 3 – Launch the game
When you have both the Emerald ROM and emulator, import the rom to your emulator to launch the game.
There shouldn't be any issues with the emulator (especially the paid ones). The ROM is what may cause the problem if you don't download the right one.
How to Play Pokemon Emerald with Emulator on Mac OS
Playing Emerald or other GBA games on an emulator for Mac shouldn't be hard. It's pretty much the same as downloading and running it on a PC.
Just remember that the MAC is just an OS or operating system. For PC, it is mostly Windows, but the steps should be the same.
STEP 1 – Download the Emulator
It is the same first step and it is as easy as going to a website and downloading the Emulator. The thing to keep in mind is that you may find similar emulator names for Mac and PC (Windows).
The crucial thing to keep in mind when downloading from websites is that the emulator will have something like "FOR WINDOWS" or "FOR MAC OS".
Download the one for Mac or MAC OS, and you'll be good to go.
We also have a list of good GBA emulators for MAC OS, when you click here.
STEP 2 – Download the Emerald ROM
Once again, this step at this point is self-explanatory. Download the Emerald ROM from a third-party website and you'll be good to go.
STEP 3 – Launch the Game
Like the two previous steps, simply launch the game, and choose the ROM you want to play. However, just in case, the MAC OS will usually require you to do some settings before you launch the emulator.
It is a security measure mostly common with Mac devices. This shouldn't be hard and after a few clicks, you can launch the game with ease.
How to Play Pokemon Emerald with Emulator on iOS
This step pretty much reflects the steps for Android. Instead of playing it on an Android device, it is played on an iOS or Apple device.
There have been some concerns that there aren't a lot of good emulators for iOS but the games run fine either way.
STEP 1 – Download the ROM
This is the last time we'll say it, but just find the right website that will give you the Emerald ROM. They will always be in a GBA file format.
Plus, regardless of which system or emulator, they will not run if they aren't in a GBA file format.
STEP 2 – Download the Emulator
While Android devices have the Google Play Store, the equivalent of that for iOS users would be the Apple Store.
However, there aren't any good emulators found in the Apple App Store, rather you can visit the emulator sites. GBA4iOS or Delta emulator are some good options.
We also have a list of good GBA emulators for iOS that you can download if you click here.
STEP 3 – Launch the Game
Simply launch the emulator first. Then choose the option to launch the ROM or game of choice.
That's very easy and you won't have any problems when it comes to that.
In Closing
These are the methods on how to play Pokemon Emerald with an emulator. It is available to do on PC, Mac, Android, and iOS devices which is really convenient.
Gaming today is made even more accessible, allowing you to play the Pokemon Emerald version on mobile devices through emulators available for Android and iOS devices.
If you still want to kick back and sit down in front of a monitor, choose emulators for PC or Mac. These emulators will allow you to speed time, use save states, and even use a cheat code or two.
Just remember that finding the actual ROMs for games and emulators can be the hard part due to Nintendo's strict policy, but it's not impossible.