Pokemon FireRed and LeafGreen were both released for the Game Boy Advance back in 2004. These amazing games are remakes of Pokemon Red, Blue, and Green.
Featured Videos
While both games are the same in terms of story, it seems that FireRed is the favorite to make hacks out of.
Some of you are probably wondering: how to play Pokemon FireRed on PC?
We bring this question up because most people nowadays do not own a Game Boy, and the production of such retro consoles has long been over since 2010.
This is where a PC comes in handy because they are more than capable of emulating Game Boy systems for almost 20 years.
With the help of this easy-to-understand guide, you'll be playing FireRed on PC in no time.
Topics That Might Interest You:
How to Play Pokemon FireRed On PC
To play Pokemon FireRed on a PC, you'll need two things: A FireRed ROM that contains the digital copy of the game, and an emulator that will enable your PC to run games from the game console.
Follow these steps so you can get everything you'll need:
Get a Pokemon FireRed ROM
Like playing FireRed on a Game Boy, you need the cartridge or in this case the ROM file. The ROM is a file that you need to load up when you want to play FireRed.
Downloading a FireRed ROM file can be tricky since Nintendo is strict when it comes to sharing ROMs online.
Please note: Here at Pokemoncoders, we don't share FireRed ROMs or any roms including those pre patched rom hacks. Sharing these files is illegal and considered piracy, you can find them somewhere.
Some key points
To download a FireRed ROM, you need to make sure that it has the GBA file format. If you get one that is in a RAR or ZIP file, just unzip the file to get the GBA format.
The emulator cannot run the ROM if it is not in a GBA file format. Plus, it is free to download these Game ROMs. Do not pay for a FireRed ROM that you can get online.
There are numerous iterations, but if you find one that does state Pokemon Fire Red Version, then you'll be fine.
Keep in mind that Fire Red was released for different Regions, so the ROM file may have something like a (JP), (NA) or (EU) extension. Regardless, they will run but you may not understand the language or some cheats may not run depending on the version.
Download a GBA Emulator
The GBA emulator is just as important because even if you have the FireRed ROM, you can't play it on its own.
When finding an emulator, there are a lot of them online that you can get. Also, these emulators for PC are free.
You can actually experiment and find out which ones are good for you to use but you usually just need one.
We have a list of some good emulators that you can download and what we recommend the most is VisualBoy Advance.
Also, you can check out the other best GBA Emulators you can download for free, along with our recommendations and other important information.
What to Expect When Using an Emulator
It is actually very easy to use an emulator. Just launch the emulator app, choose the ROM and you're good to go.
We'll give you a detailed look below but anyway, there are a lot of other features that you can use when getting a GBA emulator for PC.
GBA Emulator Features
Launch GBA and some Game Boy Color and Game Boy Games
Has a speed or turbo button to speed up the game
Save and Load anytime and anywhere without relying on save points
Use Cheats for Game Shark, Code Breaker, or other types
Available game recording and screenshots
How To Use a GBA Emulator
STEP 1: Launch the Emulator Software
Simply launch the emulator of your choice.
STEP 2: Choose FireRed as Your Game
Select Pokemon FireRed as the game (it doesn't matter which version).
STEP 3: You're Done!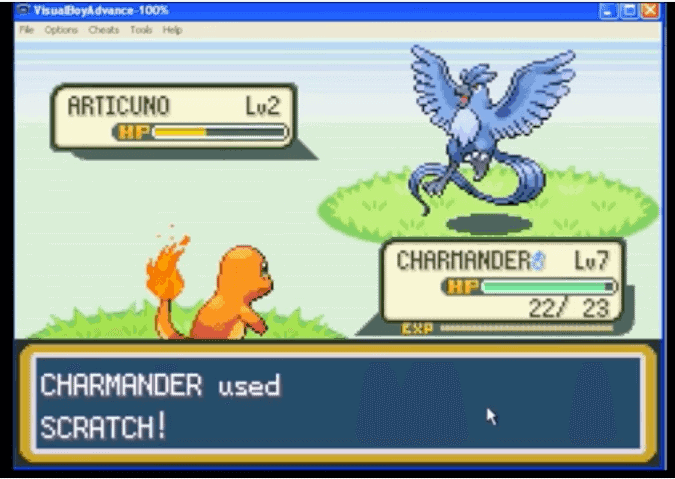 The game is launched and you're ready to play Pokemon FireRed on your GBA emulator of choice.
In Closing
Now that you know how to play Pokemon FireRed on PC, then what are you waiting for?
Having a GBA emulator can let you play your favorite Game Boy game on a PC. It doesn't just load up Pokemon games but also other popular Game Boy titles.
The only downside is that you're not able to play FireRed on the go. However, that doesn't really bother some people since convenience can be good.
Launching FireRed on PC is a good idea and if you want to get technical, playing on a laptop which is a portable PC is also possible with these same steps.