Pokemon R.O.W.E is a project by a simple person going by rioluwott. There isn't an actual definition for ROWE but let's just roll with it. It uses Pokemon Emerald as its base, and the story is the same for the most part. The other thing is that the location and characters are also the same.
Featured Videos
There are a lot of interesting new features for this ROM hack. You can choose different modes and three levels of difficulty for this game. The creator states that this is their attempt to make a Pokemon ROM hack that utilizes an open-world mechanic or at least close to it.
Other Emerald ROM Hacks
Pokemon R.O.W.E Details and More
Story
The story utilizes Emerald's story; however, due to the game's gimmick, the story could be altered in a way that you have to experience for yourself.
Features
Before you start the game, you have the option to choose the difficulty from Easy, Normal, and Hard. You can even choose modes such as Perfect IVs, No IVs, Randomizer mode, etc. Mix up everything you want to ensure that you have a fun experience. The game also gives the player nine choices for their starter Pokemon.
The tenth one is a random Pokemon that they can get. Once you have your difficulty, mode, and starter selected, it is time to choose the location where you start off.
The game gives players some freedom here where they can go and which Gym Leader they can fight, so that's a good feature to have.
Featured topic: Pokemon ROWE Cheats
Pokemon R.O.W.E Information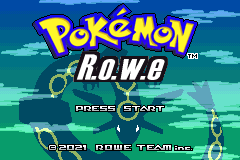 Feature List
Pokemon roster goes up to Gen 8 (not complete)
Three different difficulties to choose from
Several modes to select
9 Starter Pokemon to choose or 1 Random Pokemon
Physical and Special split
Mega Evolution (after 7th Gym)
120 TMs
TMs are reusable
Can Surf from the start
Gen 8 Flying
Gen 7 Day Care Center
In Game Wonder Trades
Nature Mints
Bike and EXP Share are given at the start
Pokemon Centers have NPCs like Name Rater, Move Deleter, Move Reminder, and IV Checker
Screenshots
NOTE: PATCHING IS REQUIRED TO PLAY THIS GAME!
We don't share pre-patched rom hacks and roms – sharing these files is considered piracy, and it's illegal! Before you can play this game, you need to patch the downloaded file to a clean base rom. To learn more on how to patch, check this guide.
Download Pokemon R.O.W.E
---
Credits

GamblinFever
KaiaWolf
zef
Bee-rye
TheXaman
AsparagusEdu
Lunos
Jaizu
CyanSMP64(Furret) for the Amazing music expansion
Merrp
Josh
PokemonCrazy
ghoulslash
Feliz Navidaddy
surskitty
Diego Mertens
WiserVisor
Dizzyegg
Pyredrid
Buffelsaft
Sapphire Jester
LarryTurbo
Drayano
Poffin_Case
Everyone in the RHH discord for answering my silly questions
Pokeemerald Team
RHH Team
/rheg/