There are a lot of fanmade Pokemon games out there using the different RPG Maker programs so we're going to tackle Pokemon Green Remix. It is a fanmade game taking place in the Kanto Region. It has your typical Pokemon story and a whole lot of features.
A lot of these features are very helpful and the roster of Pokemon goes up to Gen 8. You'll have a lot of fun and content. Download and play this game on your desktop computer if you want. The best way to play is to use the JoiPlay app armed with the JoiPlay RPG Maker Plugin so you can play it on the go.
Featured Videos
Other Fan Made Games
Pokemon Green Remix Details and More
Story
The story is like an alternate take on FireRed and LeafGreen. In fact, that's where the name comes from Green Remix which is from Pokemon Green presumably. You're in the Kanto Region and your mom is in jail and your dad is nowhere in sight. Luckily, Professor Oak is there to give you your starter Pokemon and you set your own journey to be a Pokemon Master.
Features
There are a lot of features that we'll be tackling later on but for starters, this game features Pokemon up to Gen 8. There's also a Speed Up or Turbo button in the game that allows you to increase the speed. This is perfect for those grind sessions for EXP. Pokemon that also evolve through trading can be done on your own. Another interesting feature is that you can copy your existing teams from other games but this one is a bit buggy at the moment. There are also special Pokemon called Ex-Delta that will have random stats and moves.
Pokemon Green Remix Information
Pokemon Green Remix
Creator: Zeak6464
Language: English
Source: Link
Feature List
Pokemon roster goes up to Gen 8
Ex-Delta Pokemon included
Speed Up button is available
Wonder Trade is in the game
Your Pokemon will follow you
Pokemon can evolve during battle
Can become a Member of Team Rocket and steal Pokemon
Loot Boxes available
Can ride Pokemon (still buggy)
World Tournament unlocked after finishing the main part of the game
Loot Boxes (free in-game)
Screenshots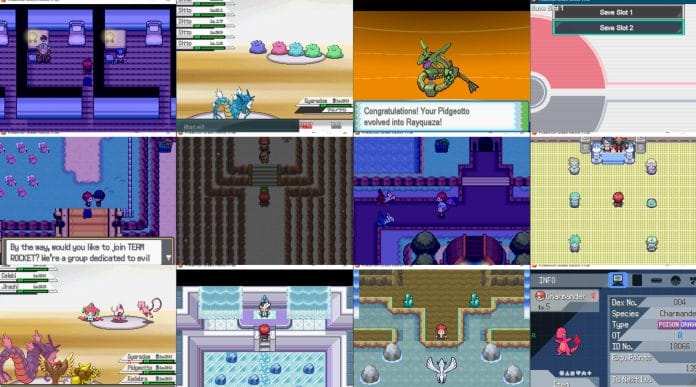 Pokemon Green Remix Download
---
Credits

http://www.spriters-resource.com – Graphics from Pokemon Games
Edahy – Overhauls-Mods-Enhancements
Akizakura – Summery Screen
tebited15 – Sprites
mustafa505:Red Vs Sprite Based on Manga
Pokemon Games (R/B/Y , HG/SS , S/M , B/W) – Music
Pokemon Anime – Music
RMXP – Music
venom12314:Essentials DS – VS screen script reference and animated trainers script reference
Dave_ – Title screen, userbar
Curt's Region Starter Kit – Door animations
Kyldove & Speed – Indoor tileset
tebited15 – Red Sprite
mustafa505 – Gen5 style Jessie & James trainer sprites
??????? – Lorelei & Agatha VS Sprites
Sichlor – Sloped clycling road tutorial
nissemann123456789 – Lorelei & Agatha Overworld sprites
Fl . – Egg available script
Smogon – X/Y/Sun/Moon Sprites
KleinStudio – Overworld Shadow , Map connection Fix , In Field Fix
Luka S.J.-EBS , Fancy Badges
Rot8er_ConeX – Script Help
TzickyT – Bug Tester
Drimmer – Script Help
Mej71 – Pokemon Follow
Blackstar – Script Help
Shiney570 – Pokemon Starter Select
M3rein – PBS editor
Rigbycwts – Save Transfer
Baaabuuu – Script Help
Mutant Yoshi – Script Help
Stochastic – custom trainer battle
Pia Carrot – Speed up
Umbreon – Randomizer
tebited15 – Sprites
Vendily – Script Help
FluffyDragon – Script Help
Eli – Sprites
BadSamaritan – Script Help
Venom1234 – DS essentials
Wolf – Sprites
RuffledRowlit – Logo
akizakura – tilesets
chimcharsfireworkd – tileset
chaoticcherrycake – tileset
thatssowitt – tileset
Foxowl – Ultra Jam Resources
OrreMIDI – Krono Resources
Zeo
Dragoon
Magic-Scarf
The-Red-eX
TheGreatBlaid
Riviera – Porygon3
derFischae – overworld script
Sage#8911 – Gen 8 following sprites
Pokemon Showdown / Project Pokemon – Gen 8 Sprites / Cries / Icons
KalerioDion – Sycamore sprite
#Notimportant – Galar Berry System
KingOfThe-X-Roads – Gen 8 Mons

"Speacial Thanks" to:
desbrina
Pokemon Reborn Developers
BlackStar

"RPG Maker XP" by:
Enterbrain

"Created" by:
Zeak6464
Judge Kreep
RoyalGuilds

Pokemon is owned by:
The Pokemon Company
Nintendo
Affiliated with Game Freak

This is a non-profit fan-made game.
No copyright infringements intended.
Please support the official games!