There have been a lot of Pokemon hacks that use base games such as FireRed, LeafGreen, Emerald, Ruby, and Sapphire. However, there hasn't been a Pokemon hack that we've covered that utilizes a different base ROM. We're talking about Pokemblem, which doesn't use any of the GBA Pokemon ROMs.
Featured Videos
We also have those hacks that have different games if you click here.
What this hack uses is Fire Emblem The Sacred Stones. That's right, it uses Fire Emblem as the base, but the game itself is Pokemon. The gameplay is a bit different because it uses Fire Emblem's system and that's what makes this hack a whole lot more interesting.
Regardless, even if it uses Fire Emblem as the base, the steps in patching it are the same.  You just need to have the Fire Emblem Sacred Stones ROM to use as your base.
Other ROM Hacks to Check Out
Pokemblem Details and More
Story
The story is seemingly the same as the ones for FireRed and LeafGreen. There are some modifications due to the gameplay mechanics, but for the most part, the game takes place in Kanto.
Features
The biggest feature here is the gameplay or combat mechanics. It utilizes the Fire Emblem battle system and not the Pokemon one. Just to give you an idea, it's more on tactical and strategy rather than being turn-based.
This isn't a hack for you if you're more into Pokemon than the Fire Emblem combat. This would probably give you a shock since everything you know about Pokemon is thrown out of the window, but this hack is still worth a try.
Pokemblem Information
Pokemblem
Creator: Vesly
Game Base: Fire Emblem The Sacred Stones
Language: English
Source: Link
Feature List
All Gen 1 Pokemon Available
Fire Emblem Strategic Battle System
Randomizer
Choose your Difficulty from the Start
Screenshots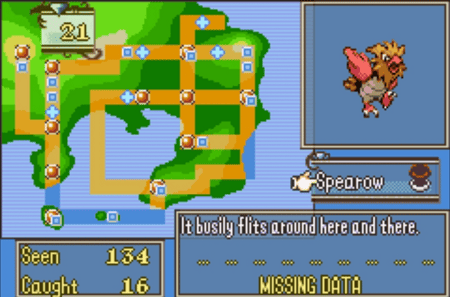 Download Pokemblem
---
Credits

## Pokemblem by Vesly

# Development
Vesly

# Systems
DangerRadius – Huichelaar
Capture – Tequila
EffectivenessRework – Tequila
SkillSystems – circles, Sme, & others
Trap Rework – Sme
Gaiden Magic – Snek, Gamma
Equippable Accessories – Kirb
FreeMovement – Sme (eventually to be inserted)
Map/chapter transitions – Huichelaar

# Special Thanks
7743, without whom this project would not be possible. He's added many features and patches to FEBuilder that I greedily requested, and has always offered support when I was having trouble.

# Assets

Most item icons – Lukirioh

Pokemart Clerk, Beta Trainer Sprites, Choice Band, Muscle Band – Zaim

Tileset water animations, Evolution stones, Jelly Donut, Drying Pan – N426

Potions, Stat boosters, & various skill icons – Jester

PMD Minimugs – Akim2007

Pewter Tileset Palette improvements – Zoramine

Stat Screen by SD9K with alternate palettes by Aqua

ChilanBerry, Rurouni, ScubaLuigi – help with items & learnsets

Physical / special icons, wise glasses – Epicer

Blackbelt – Gabriel Knight

Quick Claw – HusbandoEmblem

Difficulty Selection – Halbreadier

# Sources:
Mega Sprites from: https://www.pokecommunity.com/showthread.php?t=314422

Misc.
AI4 as group ai – PhantomSentine
Examine item fix – Sme
Fates exp – Crazycolorz5
EventParameters – Snek
Full Heal item – MintX
Hide portraits during promotion – Tequila
CheckInDanger – Stanh

# Playtesters
Akim
Ariadna
Aqua
BayouPup
bpat
bowser for lesbians
ChilanBerry
Contro
darknight97
Elzaim
FabulaFares
FickleRick
FlamingZelda
Fpkfor
Gaston
LackadasicalDerp
Leche
Luis
Kyle
Miki Brock
Missiri
mitltl
MournfulRelic
Paulean
Pf987
Piku
Rurouni
Scub
Tbone
TheIcyCharmander
TheGreatUncleYga
YourHiro

# Additional Thanks to:
Sme, Tequila, Pikmin1211

# Patches

16 Tracks/12 Sounds Fix (credit Agro/Brendor)
256 Col Title Screen – Leonarth
Anti-Huffman – Hextator
CSA – Hextator, Circles
CasualMode – circles
CG Fade Fix – 7743
Ch titles as text – circles
CompareTactName – 7743
Convert MemorySlot to String – 7743
Count Units in Range – 7743
DisablePrepStore – 7743
DisableStatusScreenForClasses – 7743
Disable Enemy Control Glitch – Brendon, 7743
Display 10-Divided CG – 7743
Drumfix – circles
remove control enemy – Brendor
Split menu – Stan, circles
Escape – ngmansion, aera
Fix LZ77 – Tequila
GetPressedKeys – Shuusuke, 7743
GetDifficulty – 7743
GetUnitDistance – Snakey1
RescueEvent – circles
EMS – Stan
Ai & LeaderAI fix – Stan
Battle Stats – Tequila
UNCM – Tequila
AIDangerMapFix – Gamma
HPBars – Circles, Tequila
ImprovedSoundMixer – ipatix
MagicSwordRework – Sme
MMB – Zane
NarrowFont – Scraiza
RNGRandomizer – TR143
PreventTradingCertainItems – Circles, Pawkkie, Vesly
Reserve Tact TextID – 7743
SendAll – 7743
ShowEmoticon – 7743, Kenpuku
Sound_NIMAP – circles, Alusq
Submenu – 7743
UnitActionRework – Stanh
L-Button Cycling – Aura Wolf

Skill Systems Contributors:
# Skill contributors

– Tequila
– Rossendale
– StanH
– Leonarth
– 2WB
– Teraspark
– Darrman
– SD9k
– Kao
– blademaster
– Snakey1
– Zeta
– Kirb
– Sme
– Ganzap
– 7743: various bugfixes
– RobertFPY, Pikmin1211, and Snakey1: Str/Mag Split Finalization

# Skill System Icons
– Monkeybard, Black Mage
– Blaze: Stances
– vlak: Drives
– Pikmin1211: Miscellaneous
– 2WB: Miscellaneous
– Zaim: Indoor March
– Reds: Quick Riposte