The Android OS is the most favorite platform for playing ROM hacks, and in fact, on our Youtube channel 70% of our readers are Android users.
Featured Videos
Now, if you are new to GBA ROM hacking and wondering how to play ROM hacks on Android this guide is for you.
Before we proceed, it's important to mention that we do not distribute any original GBA ROMs as it is against our policy to do so. However, you can easily find them online by simply performing a quick Google search.
To enjoy playing hacked ROMs on your Android device, it's crucial to have the appropriate GBA emulator. Fortunately, you can find numerous options on the Google Play Store, and some of them are even free.
Just make sure you have both a GBA emulator and a GBA patcher app to kickstart your experience.
Android App for playing ROM Hacks
When you download Android apps for playing ROM hacks, you can find them in the Google Playstore. You can download them for free, but to fully enjoy the features, you need to pay.
More guides like this;
Paying is ideal when you want to enjoy the full features of the emulator or app. You can pay to get the features that you need, and it helps the developers of the app improve its functionality and possibly make more apps later on.
My Boy

One of the best apps out there for playing GBA Pokemon games and ROM hacks would be My Boy. This app is one of the best out there because it is easy to use and not to mention that it is safe.
What we like about Myboy;
A reliable and safe to use emulator
Fast and smooth gaming experience
Cheating friendly
Has an auto rom hack patching feature
You can download the free version, but the paid version can be so much better. It gives you a chance to think about whether or not if you want to pay to use the app as intended.
There is even a tutorial video (How To Play Pokemon ROM Hacks on Android) that we have regarding how you can play and use these apps.
ROM Patcher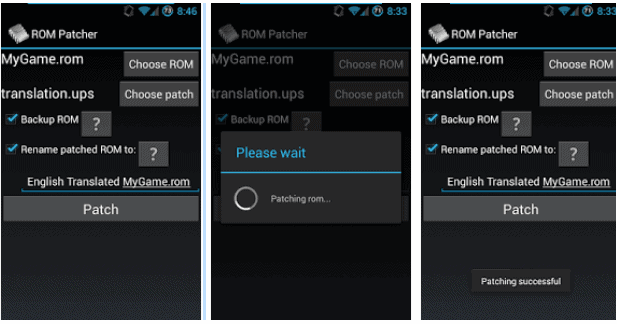 If there's a ROM patcher for Windows OS and Mac OS, Android has it too. ROM Patcher(Currently not available) is a free android app that supports dozen of patching types such as IPS, IPS32, UPS, BPS, PPF, XDELTA1, XDELTA3, DPS, ASM, XPC, DLDI and APS.
Using ROM Patcher, can be ideal to patch any IPS/UPS GBA ROM Hack file to make it work on your GBA Emulator. Patching a GBA ROM Hack with this app is pretty self-explanatory and easy.
John GBA – GBA emulator
John GBA doesn't have ROM patching feature, unlike My Boy, but it works with patched GBA ROM's. If you are using this emulator, you can use a ROM Patcher app to patch any IPS/UPS file and play it in your John GBA emulator.
John GBA is also a good emulator for playing Pokemon GBA games on Android. You can read our review for John GBA here.
John GBA comes with free and paid apps, to enjoy zero ads and full features, purchasing this app is highly recommended.
Summary
There are numerous applications available that offer similar functionality to the aforementioned ones. However, for an exceptional experience in playing hacked GBA ROMS, My Boy is what we most recommend.
A combination of ROM Patcher and John GBA is a good choice. Give it a try now and if you have any questions, feel free to leave a message in the comment section below.