If you are using the VisualBoyAdvance emulator to play your favorite Game Boy Advance Pokemon, you might encounter this strange error saying, "The internal battery has run dry. The game can be played; However, clock-based events will no longer occur".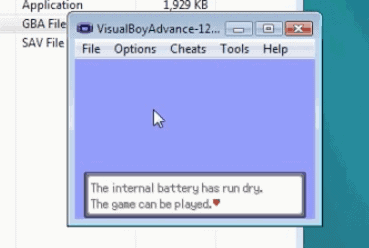 This problem is frustrating; you're very excited to play your favorite GBA game or Pokemon ROM hack, and all you got is this error, but don't get discouraged because there's a quick fix for this.
Featured Videos
Why and How this error happen?
This error usually occurs when you load a Pokemon Ruby, Sapphire, or Emerald game. I have no idea why it happens, but I believe it is a programming code related issue or whatever tech-related thing.
This internal battery run dry error can also happen with Pokemon Emerald or Ruby based ROM hacks. However, it won't affect your game's save file or the whole gameplay itself in any way, so no need to panic.
Other known VBA issues and the fixes:
How To Fix Internal Battery Run Dry Error on VBA
Creating vba-over.ini File
Surprisingly, the fix is simple; you need a few lines of code to solve the problem. Here are the steps;
Step 1: Head over to your Visual Boy Advance download folder
Step 2: Right-click and create a new text document, name it to vba-over and save the file.
Step 3: Click on the newly created text document, find the appropriate code for your game, and paste it into the file.
for Emerald
[BPEE]
rtcEnabled=1
flashSize=131072
For Ruby
[AXVE]
rtcEnabled=1
flashSize=131072
For Sapphire
[AXPE]
rtcEnabled=1
flashSize=131072

The image above shows the code for fixing run dry error for Pokemon emerald or any Pokemon emerald-based rom hacks.
Step 4: Click file -> Save As.. and name it vba-over.ini and finally hit save.

Step 5: Delete the file vba-over.txt as you no longer need it (not the vba-over.ini) and load the game once again.

Alternative Solution (Enabling Real Time Clock)
This solution may or may not work for you but give this a try;
Step 1: Open Visual Boy Advance emulator
Step 2: Go to "Options".
Step 3: Choose "Emulator".
Step 4: Finally, click on "Real Time Clock".
Closing
The internal battery has run dry error should now be fixed this time and will no longer appear as you loaded your game.
Does any of the solutions above fix your problem? Let me know which solution works for you.
If the error still occurs and it seems nothing happens after doing the steps above. Feel free to leave your comments below and allow me to help you solve your problem.