You probably know Wally from Pokemon Sapphire, Ruby, or Emerald. It's that little kid that you have to help to catch a Raltz. He becomes an easy rival later on, showing you how better he's gotten at Pokemon Battles.
That's why this hack Pokemon Wally Quest gives us a game where you play as Wally makes his way through Gen 3.
Featured Videos
There is another hack called Pokemon Wally Version, where you play as Wally as well, but different from this one.
There are two files attached below. One is the file for any Emerald version, and another is the file where it works for the Trashman version of the Emerald ROM. Choose any of them that are acceptable to you, and feel free to check our patch guide, on how to update these ROMs into the file you want.
Topics You May Want to Check Out
Pokemon Wally Quest Details and More
Story
The story takes place through the eyes of Wally. While the Emerald protagonists are doing their thing, Wally embarks on his own adventure during the events of Emerald.
Post-game is rich, and there is a ton of content to plow through. EVs can be trained, and enemy Trainers' Pokemon have EVs as well.
Features
The first one is you play as Wally, so there is no character selection. The Pokemon roster and some systems go up to Gen 7. Moves, TMs, and Abilities have also been updated up to Gen 7.
An Ability Changer is available after a certain part of the game. A lot of quality-of-life improvements have been made to make things better.
Pokemon Wally Quest Information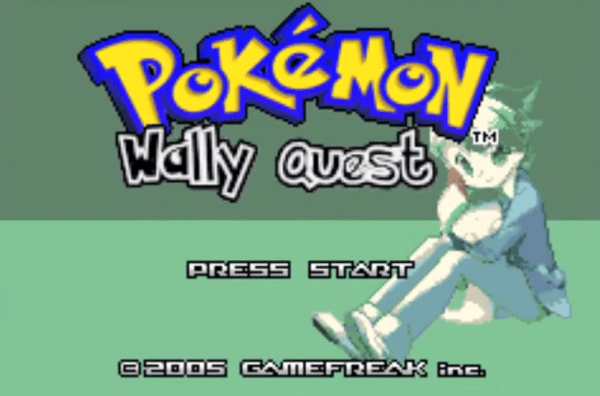 Pokemon Wally Quest
Creator: Sofie
Game Base: Emerald
Language: English
Source: Link
Feature List
Play as Wally
Pokemon Roster goes up to Gen 7
Abilities, Moves, and TM have been updated to Gen 7
Physical and Special split
EV Training available
Mega Evolution
Z Moves
Ability Changer available after the 5th Badge
Screenshots
Pokemon Wally Quest Download
---
Credits

Nintendo and GameFreak for Pokemon Emerald
Pret for the decompilation
RHH for the Battle Engine
-UltimaSoul
-ghoulslash
-DizzyEggg
-AsparagusEduardo
-ExpoSeed
-Pyredrid
-MandL127
-Lunos
-ShantyTown
-mvit
-Doesnt
-Cancer Fairy
-MrDollSteak
-Avara
-Kurausukun
-TheLaw
-BreadCrumbs
-Syreldar
-Porygon23
-Everyone else who'd contributed
The Pokecommunity forums for their instructions and modifications
-Slawter666's dynamic overworld palette + auto-reflection
-ghoulslash's Follow Me
-Pyredrid's Surfboard
-Xhyzi for custom introductory screen
-CyanSMP64 for DPPT, HGSS and BW music
Padz and ShantyTown/Yenatch for the Porymap Map Editor
Unknown artist for title screen picture
Aveontrainer for multiple overworld sprites (Professors, stat trainers)
Princess Phoenix for Mega Diancie overworld sprite
Nephae on deviantart for Zinnia trainer sprite
"Wally Quest" on title screen made with fontmeme.com
Gen 1-7 Pokemon overworld sprites (various creators) from Reddit (https://www.reddit.com/r/PokemonRMXP/comments/mhrxup/pokemon_gen_17_overworld_sprites_download_link/)
Bulbapedia for existing trainer sprites from base games, move tutor, egg move and TM-HM learnsets