There's always something fascinating about ROM hacks that have dual games. It is the concept for the main Pokemon games. We have games like Red and Blue, Gold and Silver, and more. That's where Pokemon Sun Sky and Moon Galaxy come in because these are dual games, but ROM hacks.
These are not the only ROM hacks out there that are dual games, but it's an interesting approach.
Featured Videos
You get two of the same games with varying Pokemon that you can get, which is always a good thing. We'll tackle everything that you can expect from both of these games.
Related: Pokemon Sun Sky and Moon Galaxy Cheats
Pokemon Sun Sky and Moon Galaxy Details and More
Other ROM Hacks You Can Check
Story
The story is an alternate take after the end of Pokemon Red and Blue. The main character Red lives his life and has a son. Then, 15 years later, your character embarks on your own story to be a Pokemon Master.
You even have Brock as the new Pokemon Professor of Kanto. Take your character all over multiple locations from Kanto to Alola.
Features
There are a lot of the basic features from any of the Pokemon games. This one has some of the added features from the newer games. For starters, you can explore Kanto and later the Alola Region.
Along with that is the appearance of Team Rainbow Rocket as the recurring villains. There are also characters from the Alola Region that will make an appearance. Mega Evolution and Alolan Forms are also included in these hacks.
Pokemon Sun Sky and Moon Galaxy Information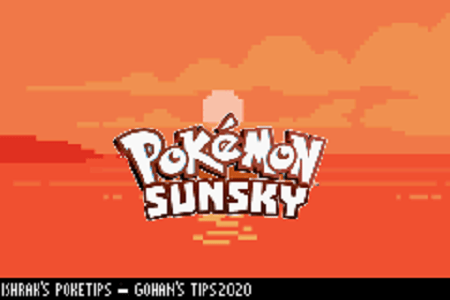 Feature List
Explore Kanto and Alola Regions
Pokemon roster goes from Gen 1 to Gen 7
Mega Evolution included
Enemy Trainers can use Mega Evolution
Alolan Forms included
Ultra Beasts are included
Z-Moves are available
New tile sets
Screenshots
NOTE: PATCHING IS REQUIRED TO PLAY THIS GAME!
We don't share pre-patched rom hacks and roms – sharing these files is considered piracy, and it's illegal! Before you can play this game, you need to patch the downloaded file to a clean base rom. To learn more on how to patch, check this guide.
Pokemon Sun Sky/Moon Galaxy Download
---
Credits

1. Kakarot – For all you did
2. Vytron – For Special Scripts
3. PCL.G – For Tilesets and cool Titlescreens
4. Percy – For Bug Fixing and Sprites
5. PokeDroid – For Sprites
6. The ones i forgot 🙁
7. MY ALL SUBSCRIBERS AND FRIENDS WHO SUPPORTED ME