Here's another FireRed-based ROM hack that you may want to try. It is called Pokemon Stigma, and according to the source it was made back in 2013. The current version is, for now the latest and probably the last version of the hack.
For more ROM hacks, we have plenty of them in our collection, check Pokemon Rom Hacks List.
Featured Videos
It is playable, but future updates may be out of the question. That's not a bad thing because you get an interesting hack with a good story and a ton of features for you to enjoy. It is a hack that is a bit mature compared to other games, but that's what makes it fun.
Other ROM Hacks to Check Out
Pokemon Stigma Details and More
Story
The game takes place in Kanto, and you're starting your Pokemon catching career in Lavender Town. It starts innocently enough, but like the other games, you'll be thrown into a world of adventure, mystery, and everything else.
You'll be uncovering a mystery of a virus that turns people and People into mindless beings. That's probably the reason for the game's name Stigma since it's like a virus. You have to uncover the mystery and catch them all.
Features
One of the features is that the game is a bit more mature. It has some dialogue that may not be suitable for some of the younger players. The story or theme also circles around a bit of horror and serious stuff.
This means not a lot of those kind and friendly motifs around. A lot of the hack's visuals are edited sprites. Pokemon roster goes up to Gen 5, but not all of them are available.
Pokemon Stigma Information
Pokemon Stigma
Creator: Scarlet D.
Game Base: FireRed
Language: English
Source: Link
Feature List
Pokemon are from Kanto to Unova
Custom sprites for other characters
Characters from different games make an appearance
Pokemon that evolve through trading will evolve by leveling up or with Evolution items
8 Gym Leaders and Elite Four to battle
Screenshots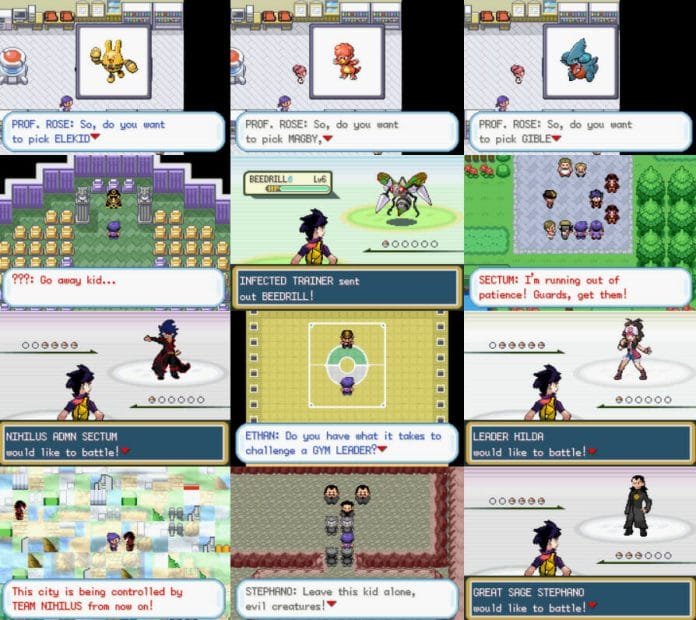 NOTE: PATCHING IS REQUIRED TO PLAY THIS GAME!
We don't share pre-patched rom hacks and roms – sharing these files is considered piracy, and it's illegal! Before you can play this game, you need to patch the downloaded file to a clean base rom. To learn more on how to patch, check this guide.
Download Pokemon Stigma
---
Credits

Scarlet D. (Developer,Maps)
Megacyber [JakeMajin] (Story, Sprites, OWs, Maps)
Special thanks to: Kakos Xamos (story), Solidius (sprites), Sapphire Wolf (Pokedex), H4x0r4k0s (mapping)