Pokemon Neon Blue is a ROM hack that was made a couple of years ago. The game looks alright, but it recently had updates in a couple of months. There are new features that we will get into later.
This is a ROM hack of FireRed with an original story and interesting features to keep you company throughout the game.
Featured Videos
Just as always, if you get a ROM that isn't in GBA format, you can easily convert it. This Pokemon GBA ROM hack is still fun despite the aesthetics a bit being dated.
If nothing else, this ROM hack is complete and it functions well enough with potential minor glitches that won't harm your gaming experience. The ROM included here is the 2.5X version which is the updated one whereas the older version is 2.5E.
Other ROM Hacks you can check
Pokemon Neon Blue Details and More
Story
The story is your typical Pokemon game. Your character resides in the town of Eon and it is your first day to venture out into the world and encounter a multitude of Pokemon and do the usual things in the process.
Despite being a hack of FireRed, you can encounter characters from games such as Ruby, Emerald, and Sapphire when you venture into this world.
Features
The game has altered sprites, making it a bit different from most games from the GBA. It doesn't look like any of the DS games, but that's not a bad thing.
You could say the sprites are distinct giving it its distinct look. The game also has its own list of unique music tracks. There's a lot of content after you beat the main game such as fighting 19 more strong trainers to test your mettle.
Pokemon Neon Blue Information
Pokemon Neon Blue
Creator: mcferaligatr
Game Base: FireRed
Language: English
Source: Link
Feature List
Pokemon roster consists of Gen 1 to 3
Several Legendary Pokemon are included
Physical and Special split
Black and White Repel system
Running indoors
Nature colored stats
Poison outside of battle doesn't kill Pokemon
Wild Pokemon double battles
Screenshots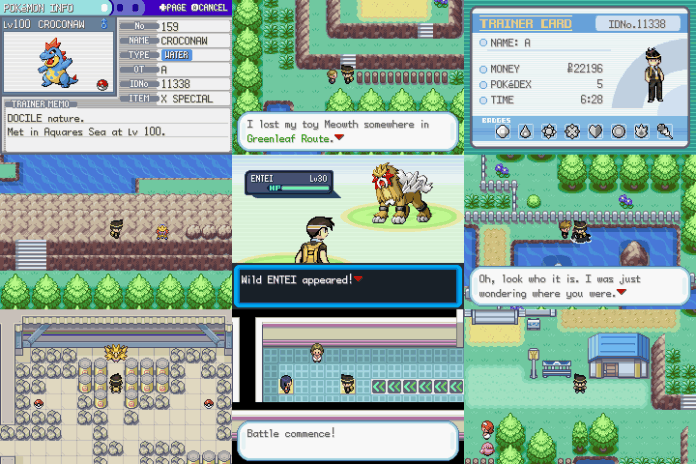 NOTE: PATCHING IS REQUIRED TO PLAY THIS GAME!
We don't share pre-patched rom hacks and roms – sharing these files is considered piracy, and it's illegal! Before you can play this game, you need to patch the downloaded file to a clean base rom. To learn more on how to patch, check this guide.
Pokemon Neon Blue Download
---
Credits

Of course, GameFreak and Nintendo for making the games in the first place
Well, me, as every modification in this rom was made by me, although, I used tools from various sources that have immensely helped me while making this rom hack, and all credits go to the authors of said tools.
Tools & resources used:

– Advance Map
– Sappy & Mid2Agb
– Nameless sprite editor
– Hopeless trainer editor
– Unlz Gba
– XSE script editor
– Intro text editor
– ASM compiler
– Iv stat display screen on the summary menu
– Opponent party generation ASM
– Whiteout routine ASM
– Complete item editor
– Advanced palette editor
– Pokemon intro cry editor
– Nameless tilemap editor
– (Hopefully all credits have been covered)
– DS 64×64 sprite resource
– Doesntknowhowtohack – IV stat display
– G3HS for sprite position and sprite alterations
– G3T
– Advanced pokemon sprite editor (for almost all new sprites inserted)
– Delta's NSE bookmarks – mainly for editing pokemon sprites in credits
– Lunar IPS – for creating the patch file
– TL's Quick Enhancer – for wild double battles, PSS, nature colored stats, BW repel system, running indoors, exp gain with a pokemon catch.