Pokemon Crystal is one of those games in the series where it is loved but gets shafted to the side. The third game in the Gen 2 series of games brought a lot of features.
That's where Pokemon Fool's Gold comes into play because it uses Crystal as the base ROM hack.
Featured Videos
Technically, the game looks like the GBC games but that's not a bad thing. You get to try and feel the same Pokemon Crystal but with a lot of changes.
When it comes to this project, the creator is still trying to make it better, but it is already playable in its current state.
Other GBC ROM Hacks
Pokemon Fool's Gold Game Details and More
Story
The story is the same as Pokemon Crystal's so if you know where to go, then you already know what to do. There are some minor changes that you may notice but it still flows the same.
Features
While the game's graphics are similar to Crystal's, one of the many changes in the game is the typing and designs of the Pokemon.
You'll notice that the design of the Pokemon has been changed while maintaining their name and some appearances.
Their types have been changed to make it more interesting. Such as the three starters where Chikorita is now Fighting, Cyndaquil is now Ice, and Totodile is now Flying-type.
You can also get all 251 Pokemon available in the game without the need for trades and more.
Pokemon Fool's Gold Information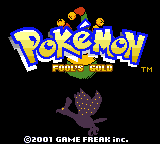 Feature List
All 251 Pokemon in the game can be obtained
Changes when it comes to the Pokemon Trainer's, Gym Leader's, and other's Pokemon lineup
Slight changes when it comes to the aesthetics
Secret areas to explore (optional)
New moves have been added
Shiny rate has been increased
and more..
Screenshots
Pokemon Fool's Gold Download
---
Credits

Fool's Gold Team:

Max / kingbigb0y
Revé/ froqpond
Gaby/ g.eeb
Amanda/ hamandswiss
Joe / celadonk