Pokemon Polished Crystal is a ROM hack of the original Pokemon Crystal. This ROM hack can be played on a Gameboy, Gameboy Color, and even better on a Gameboy Advance emulator. The hack itself uses elements from Crystal which includes the graphics, music, and even the story. Like any ROM hack, there's more to this than just a rehash of Pokemon Crystal.
Story
The story as we mentioned is the same as Crystal. You start at New Bark town and go on to finish your Pokemon quest in Kanto. While the story is the same, there are some elements to it that have been altered. There really isn't anything to worry about and if you've played the original Crystal, then that wouldn't be too much of an issue.
Also read: Best Pokemon Games for GBA, Top 10 Recommended
Features
In relation to the story, just as we mentioned there are changes. A lot of the changes are good such as having characters from the HeartGold and SoulSilver coming in to make an appearance. There are also some characters removed in the Pokemon Polished Crystal but that's not a bad thing.
New areas were also added based on the Generation IV remakes. The Pokemon roster is also increased up to those from Generation VI. This also means that the Fairy-type has been added and all available Pokemon have their stats and types updated until Generation VI.
The Pokemon Nature is also added which wasn't a thing until Generation III hit. New moves and TMs that are reusable are also added to the game. Don't forget about other new items, especially those that are used to evolve Pokemon that would only evolve through trading.
There are also new in-game events that you can partake in when you have the time. Finally, those that are brave enough can also engage in the game's Nuzlocke Mode which can be optionally toggled for a more challenging experience.
---
Pokemon Polished Crystal Details
Pokemon Polished Crystal
By: Rangi
Language: English
Source: Link
Full Feature List
Includes Pokemon from Generation III until VI
Added Fairy-type
New Moves included in the game
Updated all Pokemon types, stats, and Moves
New areas to explore
Characters from other games make an appearance
More items to use as well as for evolving Pokemon that require trading
Nuzlocke Mode available
Screenshots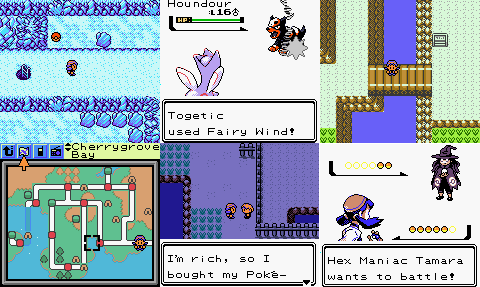 Pokemon Polished Crystal Download (.ips)
---