You've probably played Pokemon FireRed a million times. The game is good, but playing it over and over again can be tiring. That's why some players play ROM hacks of FireRed, and Pokemon FireRed 898 Randomizer is no exception.
This ROM hack features all 898 Pokemon and the fact that you can randomize things. You can still play the game normally, and you get to encounter the 898 Pokemon available. There have been numerous versions and updates to this game, but this is the most recent one to date.
Featured Videos
Spice up your FireRed 898 Randomizer gaming experience, and take advantage of cheats for a much more fun gaming experience that you've never experienced before. See our collection of Pokemon FireRed 898 Randomizer cheats.
Other FireRed ROM Hacks
Pokemon FireRed 898 Randomizer Details and More
Story
The story is the same as Pokemon FireRed. If you already played the game, then you know what to do, where to go, and what to expect. Just expect that the Pokemon spawning in the different locations are different from FireRed and some are the same.
Features
While you can play this ROM hack normally, the question is why would you? The best feature of this game would be the ability to randomize some things.
Even before you leave your room, you have to choose to randomize the Pokemon that spawns (including Starters), the Abilities that Pokemon can learn, and the Moves that they learn as they level up. You can randomize one of those things or all of them.
This hack has other features like having the Dynamax Feature if you choose to turn it on at the start of the game. You can basically encounter and catch all 898 Pokemon when it is Randomized since the spawns are normal if you're playing the game regularly.
Pokemon FireRed 898 Randomizer Information
Feature List
898 Pokemon from all Generations available
Can randomize Pokemon Starters (Kanto Starters if not Randomized)
Can randomize Pokemon Move Learning Set
Can randomize Pokemon Location spawns
Can randomize Pokemon Abilities
Graphical enhancements
Mega Evolution
EXP Share
Dynamax available
Screenshots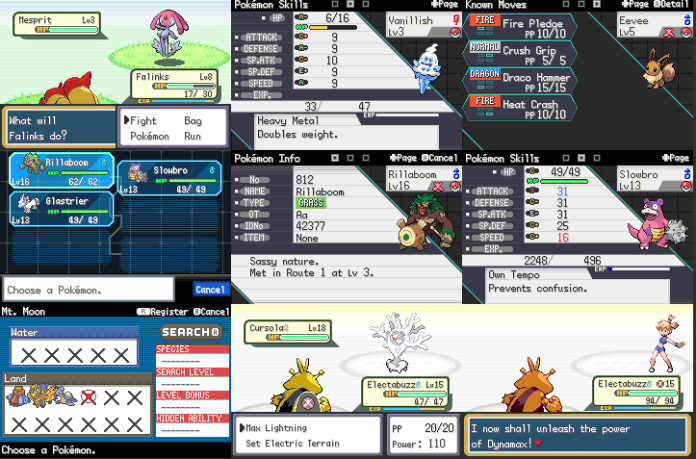 NOTE: PATCHING IS REQUIRED TO PLAY THIS GAME!
We don't share pre-patched rom hacks and roms – sharing these files is considered piracy, and it's illegal! Before you can play this game, you need to patch the downloaded file to a clean base rom. To learn more on how to patch, check this guide.
Download Pokemon FireRed 898 Randomizer
---
Credits

Complete Fire Red Upgrade and Dynamic Pokemon Expansion are by Skeli789 and ghouslash. Without them it wouldn't be possible! (https://github.com/Skeli789/Complete-Fire-Red-Upgrade, https://github.com/Skeli789/Dynamic-Pokemon-Expansion)

I used Leon's Rombase to have item graphics and items functional, as well as a lot of other things (overworld expansion, game freak presents patch, etc). Thanks to him! (www.pokecommunity.com/showthread.php?t=409672)

I used Againsts' Black/White Summary screen patch. Thanks to him! (https://www.pokecommunity.com/showthread.php?t=399121)

I used (I believe) Kiy/usigusom/()/黒インク's Black/White party select screen patches. Thanks to them, and Lunos for posting them! (https://www.pokecommunity.com/showthread.php?t=414022)

I used a Whackahack forum member's (I believe its Neon Skylar) Black/White bag patch, thanks to him/her! (https://www.mediafire.com/file/w6u1yqcciulqaxp/parche_mochila.rar/file)