Welcome to Pokemon Shiny Gold Sigma, the upgraded version of Pokemon Shiny Gold which was originally released by Zel in September 2006, and was last updated on July 14th, 2007. Pokemon Shiny Gold Sigma now offers a dozen of new features, released on November 16, 2015, and updated on December 6, 2017.
Featured Videos
Pokemon Shiny Gold Sigma has an improved Johto region around Kanto and updates on Orange Islands together with their leaders. Shiny Gold Sigma has now over 850 Pokemon from Generations I to VII with Alola forms.

With the increased number of new features in every Pokemon game, you'll be surprised to know that Shiny Gold Sigma now supports mega evolution.
Not just that, with stunning new colorful and elegant looking sprites, new structures, new moves, and effects you will surely begin to admire the game. Full features, images and download link for Pokemon Shiny Gold Sigma are found below.
The most recent version of this game is Pokemon Ultra Shiny Gold Sigma and we highly suggested to check and play it.
---
Game Information
Features
850+ Pokemon from Generation I to VII
Mega Evolution
New evolutionary stones
Battle Frontier
New effects added, like entrance into a new place, ash grass, high grass, micro grass.
Competitive stuff avaliable, coloured stats, IV and EV suggestion.
Fly everywhere
Leaders offers rematch in Johto, Kanto and Orange Islands
Badges as Crystal order and coloured
Improved graphics, colorful & elegant
System clock automatically walk with 5 changes
System clock automatically walk with 7 weather times
New sprites
Pokemon are more likely to capture that were previously quite rare
Sounds remastered & enhanced
Similarity to Anime occurrences & new rivals accorded to Manga
Leaders reinforced, more difficult & new Ex-Elites
More interesting attacks
New objects, new main characters, history, places, music, events
New Pokémon icons, new trades, new improvements Black & White style, includes: Earn EXP while capture, TM unlimited use, 1 PS survival, repel's system, Kanto Alola Form, among others.
3 Elite Four, 4 Champions, 4 regions, 28 gym leaders with rematch, and more.
Complete Pokémon Location and available Pokédex to index them all
Screenshots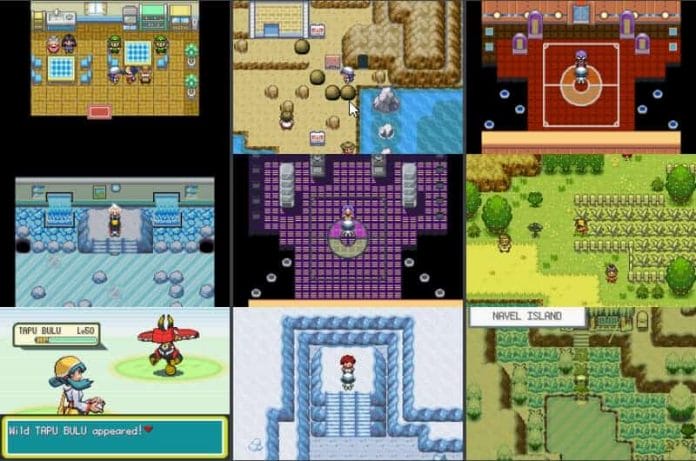 Pokemon Shiny Gold Sigma Download
---