The Story: You are a poor boy living in a small town but with the ultimate dream of becoming the best Pokemon trainer. Although always bullied and often belittled due to economic status, you have a positive attitude with the hope to fulfill your dreams at any cost despite the problems.
Featured Videos
Surprisingly, one morning the Professor wants to meet you, and without a doubt, you came to see him.
Professor's grandson took a change in his life and taken over the Pokemon Headquarters; you have to stop him along with his eight subordinates which were a genetically modified tyrant Pokemon. This situation is the perfect time for you to show off your skills and tell the world how capable you are in saving the town.
Pokemon Advanced Adventure Cheats
Pokemon Advanced Adventure is a LeafGreen based game, this means pretty much all cheats for LeafGreen could work in this game, we have also collected some Pokemon Advanced Adventure cheats exclusively for this game.
Just keep in mind that some cheats can cause problems when not used properly, so use it at your own risk.
2018 Final Version Update
Guess what? The author made an update of Pokemon Advanced Adventure, making this the final version. The game has been completely revamped, noticeable changes include redesigned titles and maps. The full list of new features listed below. Thanks to the author and friends who spent a lot of time developing this amazing game and making it available to every Pokemon fan.
Note: For beginners, please note that it is a LeafGreen based rom hack and not for FireRed. This means you need a clean LeafGreen rom for patching. For best patching experience use Lunar IPS Patcher.
---
Game Information
Pokemon Advanced Adventure
Author: dbzmay
Game base: Pokemon LeafGreen
Language: English
Source: Link
Features:
New Region To Explore
Catchable Wild and Legendary Pokémon
No Trade Evolutions
Starter Custom Moveset
New Storyline
No HM's
All TM's Obtainable
New Hero
New Pokemon Sprites
5th Generation Pokemon
New TileSets
After Game Storyline
Final Version Released Features
After game story line completely coded
Route 11 and HQ sprites and scripts completely recoded
Map scripts disabled
Added all the new legendary Sprites/Movesets
Remapped all the new maps: Stairway to Heaven/Sages Cavern, etc.
Tiling errors south of Hero's Village
Added higher lvl pokemon inside HQ security
Deoxys attack mode added
Deoxys disobedience removed
Increase capture rate reshiram/zekrom
Arceus ability in YAPE to intimidate
Add a 2nd jirachi sprite OW (the ones in motion)
Added New training training region for HQ just north of darkness creek (water and cave)
Remove all the clearflag's in the final script
Pokemon HQ Music Adjustments
Tile error fixes
Movement permission fixes
Tyrant: Gyarados, Salamance and Cloyster resprited
Mewtwo level adjusted to level 70
Edited final HQ Battle script with minor adjustments
Fixed a minor dexoys error
Screenshots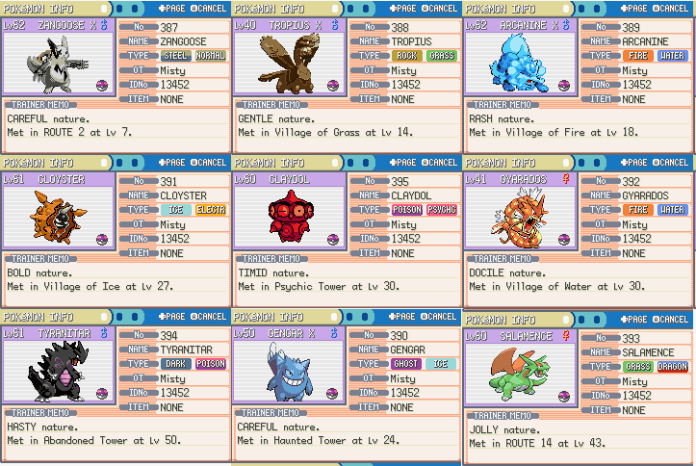 Pokemon Advanced Adventure Download
---