There are a lot of Pokemon ROM hacks out there that have Digimon as their Pokemon. Why not add one more, which is Digimon Nova Red. This game uses FireRed as its base, and the story is the same. The only difference is that you're using Digimon rather than Pokemon.
A whole new roster with its distinct types, stats, and abilities, can make your session a bit more interesting. You can find the complete roster online easily to plan ahead for your team since they are not the same Pokemon that you are used to using.
Featured Videos
The roster went from 151 to 250 in the recent version, so check it out.
ALSO CHECK
Spice up your Digimon Nova Red gaming experience with cheats, check out our collection of working Digimon Nova Red Cheats.
Other Digimon-themed ROM Hacks
Digimon Nova Red Details and More
Story
The story is similar to FireRed, so you know what to do and where to go. Just expect the changes when it comes to the Trainers', Gym Leaders', and other enemies' Digimon lineup. There might be some modifications in the dialogue, but the main story flows the same.
Features
Just as we stated, you have Digimon instead of Pokemon. The earlier versions had 151 Digimons, but now it is up to 250. All these Digimons have been given original typing, abilities, and stats. You have to do some research to find out their move sets and types later on.
Their spawn locations also vary, and they can evolve without the need to trade. There are no Shiny Digimon in the game, so don't bother hunting any of them. You can head to the source link if you have any suggestions for the game.
Digimon Nova Red Information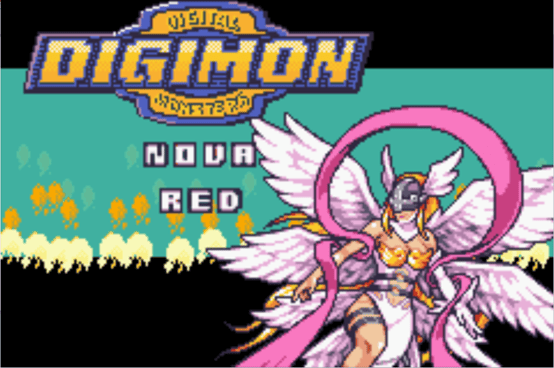 Digimon Nova Red
Creator: Guizeinbuick
Game Base: FireRed
Language: English
Source: Link
Cheats: Click here
Feature List
From 151 to 250 Digimon you can catch
Digimons have specific Types, Abilities, and Moves
Digimon can evolve naturally without the need to trade
Fairy-type included
Physical/Special split
The game is slightly harder than normal
Screenshots
NOTE: PATCHING IS REQUIRED TO PLAY THIS GAME!
We don't share pre-patched rom hacks and roms – sharing these files is considered piracy, and it's illegal! Before you can play this game, you need to patch the downloaded file to a clean base rom. To learn more on how to patch, check this guide.
Digimon Nova Red Download (IPS)
Advice: Note from the creator

Don't go "Shiny hunting" because there are no shinies in the game. Sorry.
No need to go fishing more than once. Only one Digimon can be caught via fishing: Manbomon.
While all Digimon are viable, some have higher stats than others. They generally run on "short-term gain, low investment" vs. "high investment, high payoff" archetypes. If you come across a horribly weak baby Digimon, chances are it will grow up to be a total monster if you put in the time.
The game is about 1.5x to 2x times harder than the original Fire Red, so casual players should have a good time with it. It's no pushover, but hardcore nuzlockers and such might want to come up with their own rules to make the game more challenging. Expect a considerable difficulty spike at the Elite Four.