The Nintendo DS was one of the best handheld systems from Nintendo. The DS nearly had a decade lifespan as it was released in 2004 and finally discontinued in 2013. The system was very nice because it had a rechargeable battery so you didn't need to buy multiple batteries like the Gameboy.
The DS had a touchscreen system along with a stylus pen to operate the screen. It also had a feature where it was able to connect to the internet. Considering that the DS is from Nintendo, then the Pokemon series had a good presence in the system. We're taking a look at 10 of the best Pokemon games for the Nintendo DS.
Featured Videos
Related: Pokemon DS rom hacks
Just remember that games of the same kind or sibling games will be counted as one since they are pretty much the same. The other thing is that this list is subjective and people might have other rankings.
10) Learning with Pokemon: Typing Adventure
We'll start first with an educational game and that is Learning with Pokemon: Typing Adventure. The game needs the Nintendo DS Wireless Keyboard. This means that you have to pay more for buying the wireless keyboard. You can consider the game as an educational one which helps you hone your typing skills.
You simply type the letters that pop up on the levels. It sounds simple but the later levels can be challenging and can offer a lot of fun. If you can get a copy of this game and a wireless keyboard then you can enjoy it.
09) Pokemon Trozei!
Pokemon Trozei! is also called as Pokemon Link in some areas. The game was released back in 2005 and it is a puzzle game. It does have a story to follow but in terms of the puzzle mechanics, it is a bit similar to Tetris but you match Pokemon icons. The game can be fun and you can play different modes. The players can also play against other people online. That concept is good because back in the mid-2000s' going online against other people wasn't that common.
08) Pokemon Dash
Unfortunately, Pokemon Dash isn't going to be ranking higher in the best Pokemon Games for DS. However, with the two previous games, this one is slightly better but some people still think this isn't that good of a game. The game uses the racing genre where you have Pikachu as your main Pokemon. It uses an overhead view and you control Pikachu using the stylus as you help navigate him through the race course. It does have an online multiplayer mode so it has that going for it.
07) Pokemon Ranger
Pokemon Ranger is a very distinct take on the Pokemon series but has elements of the basic games. You are a Pokemon Ranger and you're tasked into maintaining the peace as Pokemon can potentially wreak some havoc. You control your character and have the move around the area until the plot allows you to proceed.
The combat is also a bit different because you don't really get to use that turn-based system but instead you rely on the stylus. It has some appeal but for the most part not that enticing in the long run. The sequels are Pokemon Ranger: Shadows of Almia and Guardian Signs but the first one seems to be the more favored one by the fans.
06) Pokemon Mystery Dungeon: Explorers of Sky
Explorers of the Sky is the sibling game to Explorers of Time and Explorers of Darkness. These games are similar to the Gameboy Advance games namely Pokemon Mystery Dungeon: Red and Blue Rescue Team. Explorers of Sky pretty much improves on the previous games. The gameplay is similar to those dungeon explorer games where every time you move or attack, the other inhabitants of the dungeon will also move and even engage your Pokemon for a battle. These games offer a lot of fun and strategy as well as probably some headaches.
05) Pokemon Conquest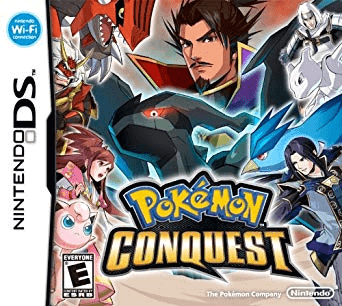 When it comes to spin-off games, Pokemon Conquest is one of the highest rated ones. The game was released back in 2012 and it takes place in a setting similar to ancient Japan. You got feudal lords warring it out with each other and there's your character that has to take the role of the one becoming the Warlord of Aurora. The gameplay is very distant as it uses tactical turn-based combat.
Your Pokemon act like soldiers and you can move them around and initiate moves against enemy Pokemon. The goal is to eliminate the enemy Pokemon team before your own team is wiped out.
04) Pokemon Black 2 and White 2
The games were released as late as 2012 and they continue the story from the first Black and White games. These games are good but most people think that they are too similar to the first games. You get a new character to play which is good but some feel it could have been a good extension of Generation V. Pretty much everything other than the plot is the same.
You have the same graphics and gameplay with some minor additions. Then again, you can't just knock it out just because they are sequels.
03) Pokemon Platinum
Pokemon Platinum is the sibling game to Diamond and Pearl. While Diamond and Pearl introduced Generation IV and both are good games, Platinum improves and adds a lot of things to these games. You could say Platinum had the edge but all these three games are the same.
Pokemon Platinum adds different plot points and more areas for you to explore and battle other trainers as well as the Pokemon being altered in terms of which ones are available. This game also features the Frontier Brain Trust, a classic favorite from the older games.
02) Pokemon Black and White
Pokemon Black and White were released in 2011 and introduced Generation V to the fans. Unlike the Generation IV games, Black and White have a very distinct style presentation. One would argue that it is more pixelated but not in a bad way. A couple of new Pokemon introduced as well as other concepts that you may not have encountered yet. There are now triple battles as well as rotation battles that you can enjoy.
The online link features are still there and you can trade Pokemon to older DS games. Black and White also introduce the Season system where the game can have all four seasons and some Pokemon will be available depending on the season.
01) Pokemon HeartGold and SoulSilver
These two games are the same in terms of plot and gameplay. The only difference is that one game will have available Pokemon that the other one won't have. These games are remakes of the 1999 games Pokemon Gold and Silver. The reason why these games can be considered as the best Pokemon games for DS is because of the content. Just like the original, you can play in another region. You got 16 Gym Badges to collect, 8 Elite League trainers to fight, and 2 Champions.
This game also has a lot of Pokemon ranging from Generation I to IV and you have the chance to get a lot of Legendaries and that's content that is worth the price. Don't forget you can also use some cheats when you play these games.
When you have a DS that is still functioning today and you're craving for some good Pokemon games, these are just a few of the titles that you can get for the system.